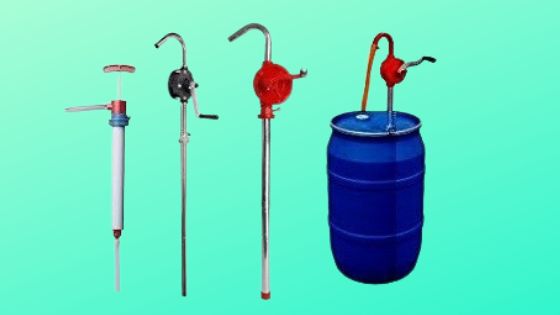 A drum pump is a type of rotary pump that is specifically designed for transferring liquids from drums, barrels, and other large containers. They are often used in industrial and commercial settings where large quantities of liquid need to be transferred or handled, such as in manufacturing plants or chemical storage facilities.
Drum pumps typically consist of a motor, a pump head, and a suction tube or hose. The motor is responsible for powering the pump, while the pump head contains the rotating parts that actually move the liquid. The suction tube or hose is attached to the pump head and is inserted into the container of liquid; as the pump head rotates, it creates a vacuum that sucks up the liquid and transfers it through the hose.
There are many different types of drum pumps available on the market, each designed for a specific type of liquid or application. For example, some drum pumps are designed for transferring viscous liquids like oils, while others are better suited for handling thin liquids such as water. Additionally, some drum pumps are self-priming, meaning they can start transferring liquid from a container even if it's not completely full, while others need to be filled before they can start operating.
Drum pumps are a convenient and efficient way to transfer large quantities of liquid, and they can be used in a wide variety of settings. If you need to transfer liquids from drums or barrels on a regular basis, a drum pump can make your job much easier.
Main Types of Drum Pumps
There are two main types of drum pumps: electric and air-powered. Electric drum pumps are the most common type; they are powered by an electric motor and are typically used in indoor settings. Air-powered drum pumps, on the other hand, are powered by compressed air and are often used in outdoor or industrial settings. Air-driven diaphragm pumps are available in aluminum, cast iron, stainless steel, and acetal body materials, with a wide range of elastomer options.
Each type of drum pump has its own advantages and disadvantages. Electric drum pumps are more convenient to use since they don't require an external power source, but they can be more expensive than air-powered models. Air-powered drum pumps are less expensive and can be used in more rugged environments, but they require an air compressor to operate.
Choosing the Right Drum Pump
When choosing a drum pump, there are several factors you need to take into account. The first is the type of liquid you'll be transferring; as mentioned earlier, some drum pumps are better suited for handling certain liquids than others. You'll also need to decide whether you need a self-priming pump or not. Finally, you'll need to decide which power source is best for your needs: electric or air-powered.
Depending on our needs the pumps and motor options can be very different. The common motor includes a 3-phase, brushless, commutator, or pneumatic. These can be used with many different types of drum pumps.
The type of drum pump that works best depends a lot on the type of liquid being moved, as well as what tubes will work best with various pumps to get the job done.
As some general rules of thumb:
Aluminum tube drum pumps are great for oil-based products, but only up to a maximum viscosity of 1000 mPas
PVDF is used for acids
CPVC is also used for acids and other corrosive liquids
Stainless steel is great for neutral liquids
The specific needs you have for a drum pump help determine which works best to handle your specific drum pump needs.