Software that allows businesses to manage their computer networks, devices, and applications using a cloud-based platform is known as cloud-based network management software. Thanks to cloud-based network management software, network administrators like Microsoft Azure Cloud Services may remotely control their networks from any location if they have an internet connection.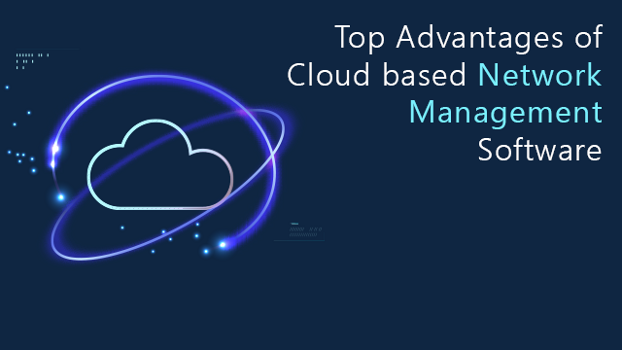 Users do not need to install or maintain any software on their local devices because it is hosted on cloud servers. As a result, there is no need for specialized hardware to administer the network, making it simple to set up and utilize.
Network managers can monitor network performance, solve issues, and carry out maintenance procedures with the help of various tools and functions commonly included in cloud-based network management software. Tools for controlling security settings, configuring devices, and monitoring network traffic may be included in this.
What are the Top Advantages of Cloud-Based Network Management Systems?
There are several advantages of using a cloud-based network management system, including:
Scalability: Cloud-based network management systems have great scalability and can adapt to an organization's changing needs. According to your needs, adding or removing resources is simple.
Cost-effective: Systems for managing networks in the cloud eliminate the need for expensive hardware and maintenance expenses. The cloud provider handles the infrastructure, upgrades, and maintenance, and you just pay for the services you utilize.
Accessible from Anywhere: Cloud-based network management systems may control your network from any location if there is an internet connection.
Simple Collaboration: Cloud-based network management tools enable users to share resources and work together on the same network, simplifying team management.
Automatic System Upkeep and Updates: Cloud-based network management systems update and maintain the system automatically, which lightens the load on the IT staff.
Improved Security: To protect your network and data, cloud-based network management systems include superior security features, including multi-factor authentication, data encryption, and firewalls.
High Availability: Cloud-based network management systems offer high availability, implying that there is little to no downtime and that the system is constantly up and operating.
Flexibility: Cloud-based network management tools provide you with more freedom to manage your network by letting you select from a wide range of software and hardware configurations. You may quickly scale up or down as necessary and choose the features and tools that best meet your needs.
Improved Monitoring and Analytics: Cloud-based network management tools give you better network visibility and monitoring, making it easier to spot problems and take appropriate action to fix them. In-depth analytics and reporting on network performance, user trends, and other essential indicators are also available from these platforms, which you may use to inform your network management decisions.
Better Disaster Recovery: Cloud-based network management systems can offer superior disaster recovery features, such as data backup and replication, failover and recovery choices, and automatic failover to backup resources in case of a breakdown or outage.
Improved Agility: Using a cloud-based network management system, you may easily install new services and applications and alter your network configuration as necessary. With this greater agility, you can keep one step ahead of the competition and react rapidly to shifting market conditions.
Reduced Downtime: Cloud-based network management systems offer improved redundancy and failover capabilities, helping to cut down on downtime and guaranteeing that your network is always accessible when needed.
Why are Microsoft Azure Services among the Best Cloud-based Network Management Systems Providers?
Microsoft Azure is considered one of the best cloud-based network management systems providers for several reasons:
Extensive Features: Virtual machines, databases, analytics, security, and other features and services are just a few available with Azure. These features can aid enterprises in developing, deploying, and managing sophisticated cloud workloads and applications.
Scalability: Depending on your company's demands, Azure offers the option to scale resources up or down swiftly. Thanks to its scalability, you can rapidly adapt to variations in demand or traffic without having to worry about hardware constraints or capacity planning.
Hybrid Capabilities: Using Azure's hybrid features, organizations can combine their on-premises infrastructure with the cloud. Organizations can profit from the cloud while keeping their current on-premises infrastructure investments with the aid of this integration.
Security: With capabilities like network security groups, encryption, identity and access management, and others, Azure offers a high level of protection. Moreover, Azure has compliance certifications for several regulatory frameworks, which can assist businesses in meeting their legal obligations.
Integration with Microsoft Products: Microsoft products, including Office 365, Dynamics 365, and Power Platform, are effortlessly integrated with Azure. Thanks to this connection, organizations may increase collaboration and productivity by streamlining their procedures and workflows.
Global Presence: Azure has data centers spread throughout the globe, giving it a global footprint. With a worldwide presence, businesses may better serve users in many geographies and meet compliance and data residency needs.
Conclusion –
Systems for managing networks hosted in the cloud benefit businesses of all sizes and sectors. Better redundancy and failover capabilities are offered by cloud-based network management solutions, which can assist in decreasing downtime and guarantee that your network is always accessible when needed.
Moreover, Cloud-based network management solutions, with their comprehensive features and services, are the perfect choice for businesses wishing to enhance network performance, cut expenses, and remain ahead of the competition in today's quickly evolving business landscape.
Businesses should contact Microsoft Azure consulting service providers to know more about networking management solutions or even partner with seasoned Azure cloud consultants to leverage the advantage of networking management solutions.