Whether you're in nursing school or about to graduate from it, you know the importance of good nursing-wear supplies. You have to remain in the same scrubs and shoes for a long time while tending to your patients' needs. It becomes imperative that you dress with the role and responsibility of the Elite Nurse in mind.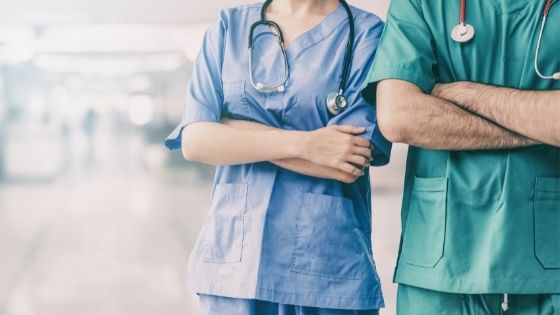 From dealing with germs to protecting the patients, the responsibilities of a nurse are endless. Here you will know how to be ready with your nursing equipment so that you can fully focus on your patients!
What Are the Essentials You Must Have as A Nurse?
Before joining the workforce as an Elite Nurse, you must have thought about the medical expertise you'd be getting. You might have imagined the medical equipment such as a stethoscope, but never about the overall gear.
Long day and night shifts while caring for the patients come with a set of care rules for yourself too. You might not realise it, but every apparel item has a role to play in your protection and your patients'.
You don't want to bring the germs back home, do you?
So, if you haven't figured out all you need, here's how to find your fit from top to bottom!
Nursing Shoes: You will be walking and rushing around in these. You need to make sure that they are of the best quality and comfort for you! Always remember to try them on before buying if you have problematic feet. Moreover, you're not supposed to wear open-toed shoes in the nursing facility for protecting your feet from germs and excreta.
Compression Stockings: Your veins in the legs start going numb after 10-12 hours of the continuous shift. You need to be prepared with leg stockings with good compression to prevent fatigue and long term damage.
Scrubs: What a lab coat is to a scientist, a scrub is to a nurse. Wearing them too tight or too loose can hamper your focus and productivity at the workplace.
Also, you will wear these a lot! Just make sure you get ones with pockets to keep your watch or something else.
Watch: Time is of great essence in the nursing department. You can't be lazy with your approach when someone's life might be at risk. Ensure that you have a fully functional watch aligned with the medical facility's time.
Moreover, you need to keep in mind that you can wash the watch easily to rid them of germs.
Hair Cover: Your hair can carry plenty of germs and small fragments of dirt if left unattended. Your hair can come in contact with bodily fluids or even equipment. It's highly advisable that you keep your hair tied up in a bun with a hair cover on top.
No Fake Finger Nails or Jewellery: Keeping it minimal is the cardinal rule of nursing. You never know which superbug can latch onto your nail or jewellery and spread around. The sensitivity in patients' health is the priority at every facility.
Final Thoughts
In the healthcare industry, the patients are the core of priorities. While nursing and caring as an Elite Nurse for them, the protection offered goes both ways. It helps you stay away from contaminants and keep the germs at bay from them.
It's the essential nursing wear that brings efficiency and safety to the care offered!