We all have once wished to eat that soft, fatty, melty piece of sushi in our lives. If you are someone who has never tried sushi, then this article is for you! As a beginner, you may get lost amidst the varieties of sushi platters and which one to try out first. Keep reading further to understand all things sushi.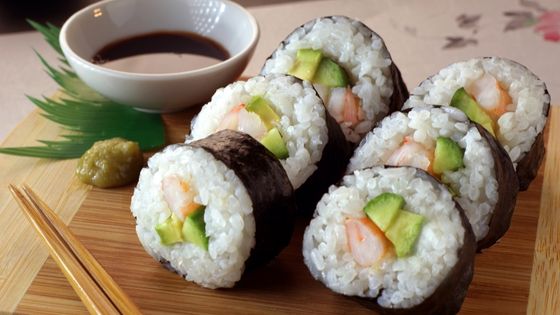 Let's Understand What Is Sushi?
We all know what sushi is. It is a Japanese staple dish made of rice, veggies, and raw seafood wrapped with Nori (a seaweed). People worldwide pair it with two widely known sauces – soy sauce and wasabi (yes, the spicy green one) and pickled ginger.
What are the Different Types Of Sushi?
Sushi has become one of the most popular and versatile dishes for years. People from all over the world have loved it for its unique flavor and also made their own versions of sushi. Here are some of the original types of sushi served in Japan locally:
Sashimi – Thinly sliced raw fish
Nigiri – Vinegared rice topped with raw fish in a dome-like shape
Chirashi – Bowl of vinegared rice with a layer of raw fish and garnishes
Maki – Bite-sized pieces wrapped in Nori with vinegared rice and choice of filling in the center
Uramaki – Fillings wrapped around with Nori and added layer of rice around it
Temaki – Cone-shaped rolls with rice, vegetables, meat, and sauces in them.
What Is A Sushi Platter? Let's Explore More
Suppose you are wondering what a sushi platter is. In that case, it is basically an assortment of multiple kinds of sushi served on a single plate. Now, there are numerous types of sushi platters made of ceramic, glass, and plastic, and in some cases, human platters to serve a variety of sushi.
Which Sushi To Try?
Sushi has been a delicacy known for years now and is widely accepted. However, only a few like or can acquire its taste. As a beginner, you may be riddled with the thought of eating raw fish. If you don't like eating raw fish, you can go for an avocado roll, Boston roll, cucumber roll, and even veggie futomaki. The list goes on and on. Here are some different types of sushi rolls if you don't like the idea of having raw fish:
California Roll: Mainly consisting of imitation crab, cucumber, and avocado, this sushi roll is widely accepted by beginners. Besides, it works as a great option to tantalize your taste buds.
Philly or Philadelphia Roll: Made of salmon, cream cheese, cucumber, or avocado, Philly roll is going to melt in your mouth while leaving the buttery texture, which makes it one of a kind dish!
Vegetable Roll: It can consist of avocados, cucumber, and red pepper generally, but you can have any veggies of your choice. This one makes the best sushi if you don't like raw fish.
Tempeh Roll: Works as one of the best sushi platters due to the crunchy texture of asparagus paired with seasoned tempeh, avocado, and basil with Nitzume sauce.
Rainbow Roll: A vivid-looking, beautiful sushi platter made up of cucumber and avocados with different colors of tuna, salmon, and other fishes on the top.
Spicy Tuna Roll: As the name implies, it is dominated by Togarshi (chilly red powder) and has raw tuna with sriracha and spicy mayonnaise.
Inarizushi: Pockets of tofu filled with rice made up in dashi stock that goes awesomely well with soy sauce and is served alongside other sushi rolls.
Sugatazushi: Found only in a few regions of Japan, it is a rice-stuffed mackerel brined first and cut into bite-sized pieces. It can be a butterfish or bouse as well.
Now, if you are someone who already has an acquired taste in sushi, you should try out some of the best sushi platters that include sashimi and sushi rolls such as Rainbow roll, Boston roll, spicy tuna rolls, and Oshizushi.
Let's Check Some Delicious Sushi Recipes!
Although there are more options to choose from, you can always try and make your own mixed sushi platter and give it a name! Till then, here is a quick recipe that works well on all occasions. Whether you invite your friends to a party or if you wish to make an assorted sushi roll platter for your loved one as a fancy lunch/dinner, this sushi platter recipe fits into all of it.
Party Sushi Platter Of Different Types Of Sushi Rolls
Step 1: Boil rice in a covered saucepan for 20 minutes. Make a mix of sugar, salt, and vinegar in a bowl. Blend the mixture into the rice once the rice is ready.
Step 2: Heat nori (seaweed) in a pre-heated oven for a minute or two. Once warm, place it in the center of a bamboo sushi mat.
Step 3: Spread a layer of rice over it and press it using wet hands.
Step 4: Put your choice of filling – cucumber, ginger, avocado, imitation crabmeat, tuna, or any choice of fish in the center. This step is where you play with your sushi platter. Multiple fillings can be used to enhance the versatility of your party sushi platter.
Step 5: Roll the bamboo sushi mat away from you using one end. This will press the ingredients gently and become a perfect roll.
Step 6: Once you have a roll in hand, cut it into 4 to 6 bite-sized pieces with a sharp knife. You can repeat this with the same procedure and different choices of fillings and make an assorted party sushi platter for your loved ones.
A Mouth-Watering Nigiri Sushi Recipe
Step 1: Boil rice and let it cool down. Add a teaspoon of sugar and salt to it after adding rice vinegar. Along with it, prep the fish by cutting it into thin slices and refrigerating it before use.
Step 2: Mix sugar, salt, and eggs in a bowl. Whisk it together and cook it in a greased skillet to make a rolled egg log. Repeat it twice or thrice until a huge omelet log is ready. Once done, cut the log diagonally into thin slices.
Step 3: Take 1 or 2 tablespoons of rice and roll it. Put a fish or a shrimp over it once you add a dab of wasabi (optional). Squeeze to improve the grip and set it aside. Repeat the process until you have the desired number of pieces ready.
Step 4: Roll the rice as mentioned above in step 3 to make a small nugget. Place a slice of omelet over it as mentioned above in step 3.
Step 5: Take a nori strip and moisten one end of it with water. Wrap it around the pieces you made in steps 3 and 4 to seal the entire sushi piece.
To Conclude:
Sushi is more like an experience in itself and requires a lot of patience for one to prepare and present it. However, for years, the Japanese have mastered the art of sushi making, which is one reason why this popular delicacy has not lost its essence even after these many years.
Hope this article helps you understand the science behind sushi. Call for a fun day with your friends and flaunt your sushi expertise when you order your next sushi platter. Thank us later!