By 2025, the international jewelry market's size is predicted to reach 292 billion dollars [Statista]. With this massive number, it is imperative for jewelry business entrepreneurs to present their photos in the best light to attract new clients and customers.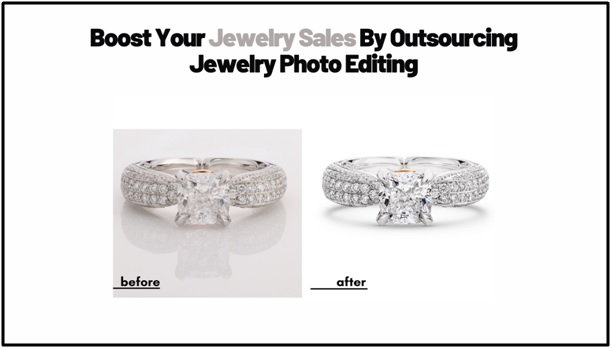 Jewelry photo retouching involves modifying pictures of your products to produce appealing, top-notch images that immediately sell and spark conversation. It involves making slight adjustments to jewelry photos to enhance their clarity and beauty simultaneously.
Why Do You Need to Edit Jewelry Photos for Online Businesses?
The main goal of jewelry retouching is to enhance its beauty and glossiness. Jewelry customers, primarily women, are not easy to impress with mere images. However, in eCommerce, everything revolves around product images and descriptions. Therefore, online businesses need professional jewelry photo editing services, especially when the competition is cutthroat. It gives them access to jewelry photographs that are more eye-catching and profitable to entice the buyer to purchase the product.
Is Outsourcing Jewelry Editing Services Beneficial?
The benefits of outsourcing jewelry image editing are numerous. The best jewelry editors have specialized teams focusing on different aspects of jewelry photos that need retouching. Here are a few advantages of hiring outside help for photo editing.
1. Professional Editing For Jewelry Photo
Outsourcing jewelry photo retouching services help you get the most satisfactory results, which frees you up to concentrate on the main line of your business. While a manufacturer or merchant may spend days editing a single image, professional photo retouchers can edit dozens of photos in 24-48 hours. Also, they'll ensure each shot is exported in your preferred format(s).
Additionally, when you outsource, specialists offer free samples and numerous add-on services.
2. Digital Photo Enhancement
Digital image enhancement is a must for jewelry businesses because, for conversions, they need images that can promote their items as effectively as possible. While the jewelry industry is quite profitable, it is also very cutthroat. Digital image enhancement services include product beautification and quality improvement.
When you outsource image retouching services to professionals, they'll employ cutting-edge tools to produce top-notch, avant-garde photographs that outperform your rivals even when viewed at full zoom.
3. High-end Photo Retouching
Jewelry photographs, well-edited and retouched, are necessary for exclusive print magazines, websites, applications, and eCommerce websites. Therefore, picture retouching services are essential, especially when processing raw photos taken incorrectly in a studio with proper lighting and expert cameras.
Professionals offering jewelry photo retouching services employ cutting-edge equipment to create the best, highest-quality photographs. In addition, they take into account several other factors, such as the luster or shine and the light, to ensure delivering jewelry images that convert.
4. Highlighted Jewelry Images To Attract Customers
The potential of jewelry image editing services to transform ordinary photos into ones that shine and radiate more luster, light, and shadow is among their many noteworthy advantages. Sometimes it's necessary to transform unprocessed, low-quality photographs into high-quality images for big display ads and billboards, banners, posters, etc., to advertise and promote the brand.
No matter the size of your business, hiring professionals to edit jewelry images can be quite beneficial if you want to expand and generate high revenue.
5. No Reflection, Dust, Or Scratches In Images
Many undesired aspects of jewelry photographs distract potential clients or customers. On jewelry photographs, these can include unwanted reflections, dust, scratches, etc. These are a surefire turnoff for potential customers who may have switched to your competitors. You suffer losses due to your tiny errors.
Professional jewelry image editing services providers would eliminate all such elements, especially if your images were taken outdoors, with an amateur camera, by an amateur photographer.
6. Surface Polishing For Metals And Stones
Polishing the metals and stones in jewelry-based products is one of the most crucial components of jewelry picture editing. Whether polishing diamonds, gems, gold, or silver, it must be done skillfully and subtly, not cheaply and tackily. The sparkle should be genuine, and the shine should appear natural. Since a diamond is a piece of jewelry with many layers and intricate details, altering its photos requires special care.
Professional retouchers polish jewelry photos while considering the suitable object's angle, the direction of both natural and artificial light, the distance from the front, and the image's quality. Moreover, they ensure skillfully and discretely added surface polishing.
7. Recolor Surfaces & Preserve Color
Preserving natural colors and recoloring surfaces are two crucial components of jewelry photo editing. And the color is the most critical feature of photos, particularly jewelry. If the color is not accurately caught, jewelry photographs may not have the desired impression. This can result from poor lighting, shoddy camerawork, or both.
Professional jewelry image retouchers change the hues and shades of photographs using cutting-edge software to produce beautiful images that sell. Moreover, if you have several pieces of jewelry with minimal color variation (For example- a bracelet in both silver and pearl with the same pattern), you can snap a picture of one and leave the color conversion to the image editor. This would save you your precious time.
8. Shine Repairing
Genuine jewelry does reflect a lot of light, but sometimes it reflects unwelcome light. These could be reflections of the photographers, their gear, the environment's lighting, and various things. Therefore, it is necessary to eliminate these reflections while preserving the shine.
The process that ensures reflection elimination is repainting and calls for both human and mechanical involvement. Professional jewelry photo editors use the most recent software to produce a smooth and shiny image of the object free from distractions. They eliminate unnecessary features while retaining the original texture and brilliance of the jewelry item in question.
9. Natural Shadows
Shadows in product photos are normal, much like reflections. Shadowed jewelry photographs have depth and dimension, contributing to the three-dimensional appearance. These shadows also assist jewelry marketers and makers in emphasizing the components of a piece of jewelry they deem to be the most attractive.
Good shadows give a scene depth without being fake. Professional jewelry photo retouchers using various programs, devices, and effects ensure shadow creation in all jewelry pictures.
10. Save Time & Money
As you surely have noticed from the factors above, jewelry picture editing requires specialized staff and considerably more expensive software. In addition, if you own a commercial jewelry firm, you would need specially licensed original software, which may cost you hundreds of dollars annually.
Additionally, hiring full-time graphic editors comes at a significant expense. Instead, you may focus on your field of business, producing, acquiring, promoting, or selling jewelry items, by outsourcing jewelry picture editing services, which will save you both time and money.
Outsource Jewelry Image Editing To Professionals
Now that you are aware of the benefits of outsourcing jewelry image retouching services, find the best image editing experts while taking into consideration all of your criteria and long-term objectives. By outsourcing photo editing services requirements, you can improve your jewelry's perception and grow your company.