White Sands in New Mexico is a unique National Park because of its white sands and dunes. The world's largest gypsum dunes field is located in the Tularosa Basin, which was once a large lake. By the end of the last Ice Age, as the climate got warmer, rains and snowmelt carried gypsum from the surrounding mountains. Additional temperature rise evaporated the lake, and the basin was left with the incredible white sand dunes, some of which rise to 18 meters.
Travelers from other countries need travel authorization. People from countries in Visa Waiver Program can get ESTA approval, and all they need to do is fill out the usa esta form. American administration needs at least 72 hours to process the application. A valid Visa will let you visit the country for up to 90 days.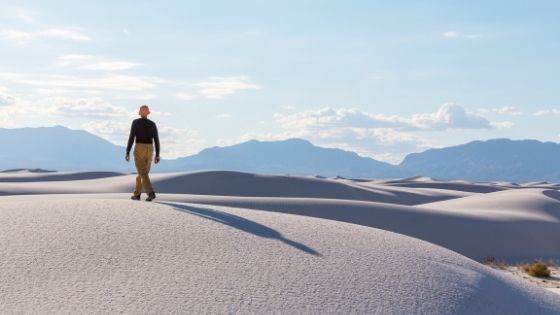 White Sands temperature
Surrounded by the Sonora desert, the White Sands also act as a desert environment whit all the climate features that come with it. Summers are sweltering in the parking area, with temperatures quickly soaring above 40 degrees Celsius. July and August are the most popular months despite the temperatures. You should check the weather forecast and because summer can have volatile storms. The best temperatures and conditions are in early fall when there are fewer people. Winter has cold nights below freezing, and daily temperatures can also be low.
Spring is a windy season, and dust clouds are common, but it's also a season when flowers are in bloom, so you should consider visiting in spring if the weather is ok.
Camping at White Sands
White Sand National Park, and former Monument up to 2019, doesn't have designated campgrounds, so you can't visit with a camper or RV. There are ten places in White Sands for backcountry camping. Visitors can't make reservations. They function on the first come-first served principle. These sites are around one mile from the designated parking lot.
Where to stay near White Sands
Most of the accommodation for parks visitors stay at the closest town of Alamogordo, some 14 miles to the northeast. Visitors rated Tavares Inn in Alamogordo with high grades, but it has only three units, all standard double rooms.
You can find cheaper rates at Magnuson Hotel and Suites. This motel has 92 air-conditioned rooms, free breakfast, and wi-fi. You can find various amenities like dry cleaning and laundry facilities. Along with free wi-fi, there is a large public pool on-premises.
Holiday Inn Express Hotel and Suites is among the better-rated accommodations near White Sands National Park. It has 80 rooms, an indoor pool and spa center, along with a free buffet breakfast.
With an emphasis on tourism and proximity to White Sands and Toy Train Depot, Alamogordo has numerous other accommodation options. Some of the more popular include White Sands Motel, Days Inn by Windham, Fairfield Inn & Suites, Hampton Inn, and Suburban Extended Stay Hotel.
Where to buy sleds for White Sands
Did you know the White Sands National Park is surrounded by Missile Range? Before you go to the park, check the website, or call the park because facilities and areas are closed due to the army missile tests.
One of the most popular activities in the park is sledding. You'll need two things for this popular sport, a sled and a vax. You can buy both sleds and vax at a gift shop behind the visitor center.
Once you have your sleds, find a perfect spot. You want to find steeper dunes but with a gradual transition to the ground level. Sand is hard at the bottom, and if you come with speed and unfavorable angle, you could get hurt. You can always invest some time and walk a little further to find your dune and spot for sledding.
Things to do near White Sands
New Mexico has numerous attractions scattered around the state and some relatively close to White Sands. The missile range mentioned above also hosts a Museum where you can find out more about missile testing, history of weapon and army campaigns in the Indian War campaigns.
Opposite to desolate dunes, close to the White Sands, is Lincoln National Forest, situated in the Sacramento Mountains with plenty of campgrounds and trails.
Besides accommodation, Alamogordo has the New Mexico Museum of Space History. Other close-by attractions include Oliver Lee Memorial State Park and Aquirre Springs National Recreation Area.
There are many things to cram into your New Mexico itinerary, but before you make any reservations, you should check esta account as a precaution.
Final thoughts
White Sands are a unique place in the US, a natural phenomenon of incredible beauty, and a challenging environment, especially in summer. You could drive, hike, or go for a sled on the dunes in the park. There are also numerous attractions in this region of New Mexico.