So you're in Italy! Land of beautiful beaches, scenic rolling hills, cobblestone streets, exceptional food (we're drooling just thinking about the gelato, pizza, pasta, and wine), and friendly locals. There is so much to see and do in Italy that you'll want to be strategic to be sure not to miss anything important.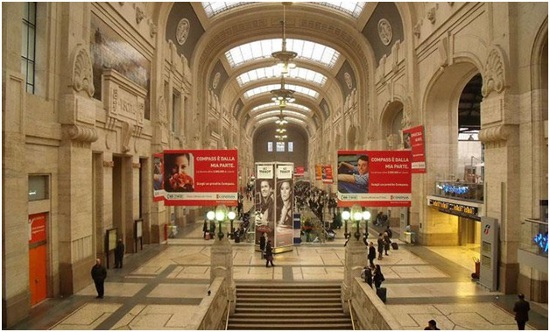 If you're lucky enough to get the chance to stay in Italy for a longer period of time than simply a "passing through" visit, you'll have the incredible opportunity to explore the region like the locals do. The Italian people are known for being generous, helpful, and welcoming, which makes it all the easier to fit yourself into the easygoing pace of everyday life there.
Where To Settle In as a "Local"
Even though you're acting like one of the country's regulars, be sure to still see and explore everything you can while you're there. Italy is filled with wonders, and its many different regions are unique from each other in what they offer. If you can't see it all and have to settle on one area to make your home base, you can't go wrong with the region of Lombardy in Northern Italy: here lies the bustling city of Milan, also the region's capital.
How to Get Around in Milan
Milan is a perfect place to set as your home base while in Italy since it is known for its commercial goods (shopping!), booming fashion scene (it hosts the Milan Fashion Week every year in the Fall), famous artwork (Leonardo da Vinci's The Last Supper is located in the original church), renowned culinary locale, and so much more!
It's also the perfect location from which to travel to other cities, as it is in close proximity to many bucket list destinations and its transportation system is excellent. You'll be mainly operating out of the Milano Centrale for all your excursions.
What is Milano Centrale?
The Milano Centrale Railway Station is Italy's second busiest with approximately 300,000 visitors every day, which adds to roughly 120 million passengers a year. It's considered one of Europe's best railway stations due to the extensive amount of trains and connections that are available from the station; with twenty four tracks and upwards of 800 trains operating through the station every day, it's no wonder the Milano Centrale is a prime way to see the sights.
How Can You Use the Station?
Because of those many trains, the rest of Europe is at your feet when you start in Milan's main station. Your options for train lines include domestic and high-speed/express domestic trains (for visiting relatively near-by cities), and cross-border and night trains for traveling outside of the country.
You can smoothly travel anywhere in the continent through either traveling directly there via Milano Centrale's trains or by making connections to other stations and their railway services; you can even commute to the airport and take off from there. So the big question is, then: where should you go first? After you explore Milan and its surrounding areas with the domestic trains, it's time to think about venturing a little farther. Due to Milan's prime location at the top of Italy, it's easy to quickly get to numerous other countries.
Where Should You Go from Milano Centrale?
One of the many nearby beaches: Milan's location makes it perfect for a day trip to a variety of beaches in Italy, including those of Cinque Terre and Noli.
Switzerland: This bordering country is one you don't want to miss! There's a train from Milan to Zurich running every four hours that you can catch.
Liechtenstein: While it may have slipped your radar, Liechtenstein is certainly a setting you'll want to visit. You'll need to make a few transfers, but it'll be worth it.
Monaco: This tiny country is peaceful, clean, and stunning, so make sure you get to see it.
How To Navigate Milano Centrale Like a Pro
Whether you're truly trying to live your Italian adventure like a local or you're embracing your tourist status, here are a few helpful suggestions for how to nail your trips through the busy Milano Centrale station.
Firstly, make sure you aren't lugging any annoying suitcases and bags with you. Even if you're planning to stay overnight somewhere rather than make a day trip of it, you'll want to pack lightly for all the walking and sightseeing you plan to do. No one wants to be rolling a heavy suitcase behind them as they marvel over all a new city has to offer. Leave your excess things behind by booking luggage storage in Milano Centrale and return to find them safe.
Also, be sure to give yourself extra time to figure out your route, train, schedule, and platform. Then you can relax and enjoy the free wifi and coffee shops inside the station.
Lastly, enjoy the station's stunning interior and Mussolini mural while you're waiting for your train.
Takeaway
Get out there and enjoy all Milan has to offer! And then be sure to extend your travel sights and visit the surrounding cities, regions, and countries. It's all possible through the convenience of the Milano Centrale station.