The most sought-after attribute of all job candidates is communication.
Learning how to speak in public not only makes you a more desirable employee. It can also influence your approach towards relationships and day-to-day interactions.
There's more to public speaking than delivering a formal speech to a large crowd. Successful public speaking requires a subset of many communication skills that can be useful beyond this setting.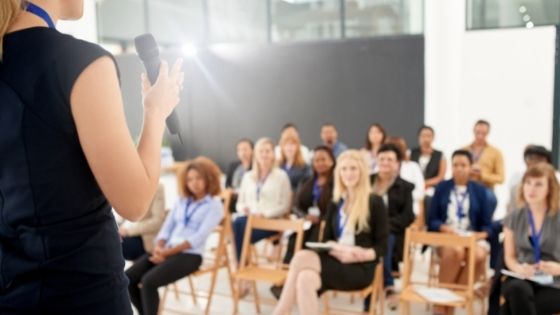 Curious as to how public speaking can improve your life? Read on to find out exactly why it's so important to have exceptional public speaking skills.
Critical Thinking
Having good public speaking skills indirectly makes you a critical thinker.
One must multitask and consider each word, gesture, and expression to make meaningful speeches. Skillful public speakers adjust their tone, body language, and word choice depending on their audience. Public speaking is a wonderful exercise in critical thinking!
Public speaking classes aim to help you better organize and convey your thoughts. It'll make you a critical listener, as well! The ability to break down and identify patterns develops as you become a better speaker.
Improve Communication
Miscommunication is often at the forefront of work and relationship issues. Effective public speakers are better equipped to handle direction, delegation, and discussion. Skilled speakers can often diffuse the situation by getting to the root of misunderstanding.
The skill sets developed when learning how to speak in public is a big part of practicing meaningful and concise communication.
Fear Factor
About 73% of people say that they experience public speaking anxiety!
This specific fear, also known as glossophobia, often stems from a worry of being judged. Glossophobia can even cause some folks to have physical responses (like sweating and shaking) from being so nervous.
Public speaking classes tend to cater to those wanting to overcome this phobia.
Students are often taught relaxation techniques and coping mechanisms to calm nerves. Classes will also cover communication strategies and techniques. The greatest improvement stems from practice and exposure to public speaking.
If you're too anxious for an in-person class, this online training is a good place to start. Whatever method you choose, public speaking classes will help build confidence so that you can push that anxiety aside.
Make Powerful Impressions
Whether you are speaking at a conference, going to a job interview, or giving a speech at your sister's wedding, that first impression can make or break it. Read out wedding speech examples and jot down the appropriate and fancy words.
Part of mastering public speaking skills is knowing what to say and when to say it. Appropriate wording, attitude, and movements are imperative to success as a public speaker.
Why do first impressions matter? If you impress, you'll have more opportunities for advancement and life and career. The obvious inability to communicate effectively can be damaging.
Advance in Career
Advancing your career is the most profitable part of gaining public speaking skills.
Effective communication is one of the more desired qualities in job candidates, no matter the field. You act as a representation of your company and how you present yourself will play a role in your company's success.
Opportunities will emerge when you prove consistently effective communication.
Perfect Those Public Speaking Skills
Public speaking classes help nurture the development of highly desired skills and qualities. This leads to greater success in your career and personal life.
As you master public speaking skills, you'll notice an increase in your self-worth and confidence. You certainly won't be the only one who sees a difference!
When people ask you where you got the helpful tips, send them over to check out the SearchIT blog space on our website.