The use of concrete as an aesthetic embellishment to a structure rather than just a utilitarian material for construction, such as floors, walls, roads, and patios, while still performing its role as an important element of the building itself is called decorative concrete.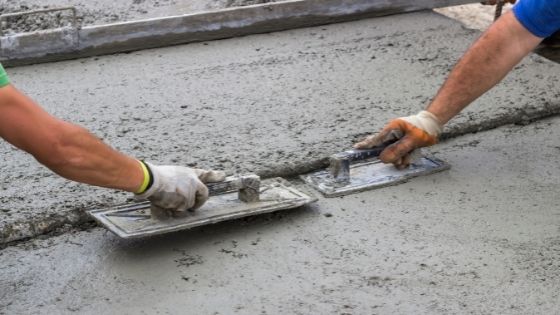 Stamped concrete, acid pigmentation, stylish overlays, polished concrete, concrete countertops, vertical overlays, and other materials and systems are used to transform concrete into decorative concrete. These materials and systems include but are not limited to the above methods.
Concrete Dyes
Concrete dyes are colour solutions that are translucent and penetrating. Apart from acid-based stains, they do not chemically react with the concrete. Rather, they comprise ultra-fine colouring additives that permeate the surface of the concrete. Many ready-mix concrete companies offer coloured concrete, and many have colour charts on hand.
Acid Staining
Acid staining is a chemical reaction rather than a dyeing or pigment-based colour system. A solution of water, mineral salts and a trace of muriatic acid is applied to the concrete surface. Over the course of two to five hours, this chemical reaction with the minerals in the concrete produces new colours on the concrete surface.
Stamped Concrete
Stamped concrete is the technique of adding texture and colour to concrete in order to make it resemble limestone, marble, slate, pebble, and many other natural items such as wood, corals, shells, and plenty more.
It is an excellent alternative for new building and remodelling projects due to its endless possibilities, high durability, and cheaper cost than natural resources.
The installation entails pressing moulds into the concrete while it is still in a malleable state. Dry shakes, colour hardeners, powder or liquid releases, integral colours, or acid stains are used to achieve colour.
Epoxy coating
They are applied to seal and protect acid stained, dyed, and overlays in decorative concrete. Coloured epoxies are also available.
Engraving
Geometric shapes, straight or curved lines, and bespoke designs can be carved directly into the concrete surface to mimic tile, pebble, cobblestone, and various other patterns. This is normally accomplished with diamond-bladed angle grinders, although it is more successfully accomplished with specialised equipment built expressly for cutting designs into concrete.
Overlaying
Polymer cement overlays
Polymer cement overlays are used for a variety of interior and outdoor projects, including:
Concrete regrading and levelling — Restore and level settled concrete surfaces.
Existing substrate redecorating and renovation — Create new textures, colours, and designs by putting "thin stamped" or "thin stained" overlays to existing concrete or wood substrates.
Stamped overlays
Rubber imprinting tools are impressed into thin premixed concrete overlay material shortly after it is applied to generate natural stone or brick textures. Moulds made of genuine stone or wood are used to make these rubber imprinting instruments. To keep the stamps from clinging to the concrete, releasing agents are utilised.
Form liner
Urethane form liner can also be used to cast concrete into unusual and elaborate designs. These projects can be found on sound/retaining walls, building exteriors, and bridges all around the world.
The sculptor, in most cases, develops the design that will be used in the concrete using clay, polyurethane, or wax. When the original work is finished, a cast is prepared with synthetic liquid rubber, and form liners are made in the reverse image of the original from this cast.
The form liner then functions as a mould against which the concrete is produced. The form liner is removed from the hardened concrete surface once the concrete is set. The pattern of the form liner is permanently textured into the concrete.