With Christmas and New Year approaching fast, there's one more holiday to look forward to…and that's Thanksgiving.
Although more relaxed in terms of dressing up than the celebrations following in December, Thanksgiving is still a pretty unique day in its attire. Whether you're staying in with the entire family, or you're attending a formal dinner, you'll definitely want to celebrate in style.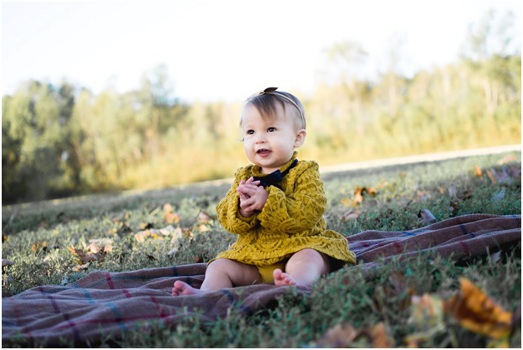 And if picking up clothes for you and your husband might be an easy task, you still need to figure out what your children will wear. Since it's more about sitting down at the table and socializing, you don't want anything that is way too dressy or fussy. What you should choose for her instead, is something both casual, and with a twist.
To help you narrow down your choices, in today's post we'll be looking at some Thanksgiving dresses both you and your little girl will fall for. Guaranteed!
1. The Little Velvet Dress
Who doesn't like velvet?
Soft and delicate, but also comfy, velvet is a fabric girls of all ages love. And a little velvet dress is the perfect idea for any holiday or celebration, including Thanksgiving. Soft velvet is the type of material that will make your little girl appear all dressed up, without sacrificing her comfort.
And this one from Florence Eiseman is a beautiful choice. It's eye catching and cute, and just look at that whote taffeta double collar in the form of petals! If only they would make this one for adults too.
You can accessorize it with a whitte hair ribbon or a tiny purse to add some extra sparkle. Not that it needs any.
With all eyes on her, your baby girl will just feel fabulous wearing this perfect look.
2. The Pumpkin Dress
How about dressing up your little girl in a cute plaid crochet dress for Thanksgiving dinner?
Autumn is all about neutral shades, warm tones, rich cranberries and all of the plaids. And this sweet plaid pumpkin crochet dress from Sparkle In Pink has it all.
Both matching the season's colors and price affordable, this dress is made of an ultra soft material and styled with a simple crew neck and long sleeves. It can be worn with brown boots or sparkling golden sneakers for a playful twist.
3. The Plaid Red Dress
And since we are crazy about plaid dresses here, and we believe they look absolutely adorable on any little girl, here's another gorgeous one from Florence Eiseman.
This classic tiny red dress is made of 100% cotton, and features a white collar and cuffs trimmed in black ribbon. The breathable fabric makes for cool and comfy wear, while the pull-on style allows for simple dressing and undressing.
For the perfect Thanksgiving fall look, you can match it with a pair of white long socks and sandals. In this pretty but also practical dress, your daughter can play with her cousins and run in the garden without feeling uncomfortable or worrying about her clothing.
4. The Perfect Denim Dress
Other than being one of the most comfortable materials on earth, denim is also incredibly versatile. From babies to grown ups almost all of us have at least one denim garment in our closet.
So why not dress your little girl in denim for Thanksgiving?
Don't be afraid she'll appear too casual, we have you covered on that! This cute sleeveless denim dress from Liam's Baby Closet is appropriate for any special occasion thanks to its flower embroidered collar and bow on the front. You can play with layers by adding up a soft cardigan sweater or a coat if it's chilly.