If you're asking how to create a logo, you're in the right place! From the golden arches of McDonald's to the A-Z Amazon smile, effective logos tell a brand's story without any words.
Good logos do a lot of heavy lifting. They tell the brand's story, communicate their product offerings, tell you something about the company's values, and capture the essence of the company. All of this needs to be condensed into the shorthand of a single powerful image.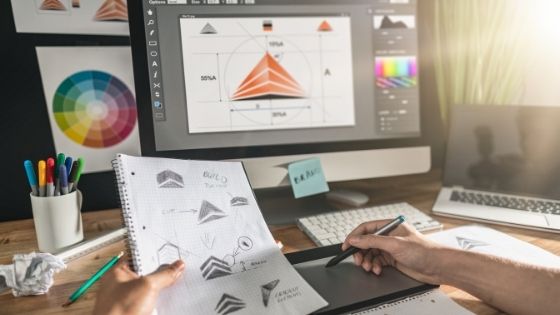 When you see an Apple device, you don't need to read the words Apple. You see the logo of an apple with a bite taken out of it.
That one image conjures all of your experiences with Apple, the status symbol of possessing a luxury device, and more. That's the kind of heavy lifting you need your brand logo to do.
If you're wondering how to create a logo, we've assembled a guide with five tips to help you pull it off!
1. First Impressions Matter
When designing a logo, it's important to understand your target audience. At this stage, market research is everything.
The data you uncover at this stage is crucial to understanding customer psychology, wants and needs, and their values that guide shopping decisions. This information is vital to making creative logos, but will help you at future business stages as well.
Start by creating a buyer persona. This is like creating a character profile, complete with details that inform their wants, needs, and buying patterns. Here are some examples of facts that should feature in buyer personas:
Age, gender, ethnicity, religion, and political affiliation
Financial, professional, and personal situation
Past experiences in your industry with products similar to yours
Once you finish developing a buyer persona, you know what they're looking for in a product. Now, it's important to distill that information into a brand logo.
If the logo seems like it will fit their wants and needs, customers will subconsciously know that they need to keep looking. Now, it's time to develop how you want customers to describe you.
2. Leveraging Psychology
What traits do you want your brand to be known for? In an ideal world, how would you want a satisfied customer to describe you?
Some brands could be described as compassionate, eco-friendly, or customer service-oriented. Try to shoot for three to five words that you'd want customers to describe your brand with.
Now, it's time to translate that customer knowledge and brand traits into images. This is when you can leverage colors and meanings into a mood board.
Utilize image-sharing platforms like Instagram or Pinterest. If you prefer to go old-school, grab a bulletin board and start clipping images out of magazines and newspapers.
Try not to overthink this part of the process. Instead, target images and colors that you naturally gravitate to. If a picture looks bright and adventurous, and that's how you want customers to think of your brand, go for it!
Doing a little research into color psychology is also valuable. For instance, blue is known for evoking feelings of calm and tranquility. Say your brand is all about making a customer's life easier while reducing the impact on the environment.
Blue is a perfect choice because it evokes both tranquility and the environment. It's an easy choice!
3. Picking A Type
You've assembled a lot of data up to this point. Now, it's time to leverage a few graphic design tips to see what works best for you.
If you're still wondering how to create a logo, know that there are three common types of effective logos. The first one is the wordmark logo.
If the name of your business is short and catchy, this could be a great option. Playing with creative font sizes, styles, and colors is the best way to go here.
A monogram logo is a little trickier. For instance, the iconic VW is recognized by people everywhere as Volkswagen. That's because they've been around for so long and have had time to build up brand recognition.
For newer brands, a monogram logo can be accompanied by a slogan or the brand name itself below. This gives you a chance to use funky colors or styles for the monogram, and balance it out with a plainer style below.
The third option is combining a logo and the brand name, and it's one of the most common options. It's the best of both worlds and ensures that potential customers know who you are.
4. Pick A Style
When designing creative logos, style is everything. For instance, container logos help a brand come off as polished and upscale. Using a rectangular border around your logo, or trying something fun like a triangle or a circle, are all great options.
Stacking text is another option. Putting one word directly over the other gives your logo a height advantage. However, it's important to note that this doesn't always work if one word is much longer than the other.
5. Making Decisions
Creating an effective logo requires a lot of trial and error. It's important to put in the time to experiment with different colors, fonts, sizes, and borders.
When creating a logo, know that you don't have to try to condense everything into your logo. Every color on your website doesn't have to fit into your logo.
Try to avoid illegible fonts, too. There are so many fun fonts out there, and it can be tempting to try and think too far outside the box. Getting a professional logo isn't easy and takes some work!
Remember that your logo will be shrunk, blown up, moved, and adjusted as it's used in countless different places. It needs to be legible in every size, and fonts that are too weird won't be able to do that for you.
How to Create A Logo
If you're wondering how to create a logo, know that experimentation is everything. You may create a few flops at first, but it will be worth it in the end. Customers will appreciate the time, effort, and passion you put into communicating your brand to them in this way.
If you enjoyed this article, try checking out the rest of our posts!