Whether you've got a special anniversary coming or you'd just like to surprise your girlfriend, flowers are a solid bet for a great gift. While roses work for Valentine's Day, they're a little overdone, to say the least.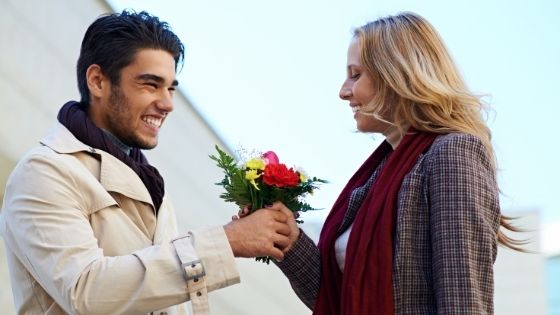 That's why we've put together our list of the best flowers for your girlfriend for you to pick from.
1. Sunflowers
For those who love the summer and sun, sunflowers are a great choice in bouquets.
They're also believed to symbolize loyalty according to Greek mythology. In this tale, a nymph called Clytie was in love with the God of Sun, Apollo. While he once loved her too, he eventually fell in love with another nymph. Clytie was jealous so told the other nymph's father and she was buried alive as punishment.
Apollo found out and turned Clytie into a sunflower as her own punishment. But Clytie still loved Apollo anyway and watched him move across the sky every day, like sunflowers do.
Despite this slightly dark tale behind them, sunflowers are a cheerful and beautiful choice for a romantic bouquet.
2. Lilies
Lilies, in particular white lilies, are often associated with times of grief. But this is mostly because of the symbolism behind them. Lilies represent devotion, purity, and peace. So while they are often a great choice for times of grief, they're also a great romantic bouquet.
There's a variety of colors and species available to choose from, so you can pick your girlfriend's favorite color. They have a beautiful, classic scent that will fill up your girlfriend's home for days.
3. Peonies
A wonderful, quirky choice, peonies are a popular alternative to roses, even on Valentine's Day. They look almost fluffy to touch and come in a variety of colors, though pink is the most popular.
They're associated with romance, good luck, and prosperity. They're named after Paeon, the Greek God of medicine and healing.
If you're leaning towards peonies, you'll want to ensure they're in season, so timing is everything. Find out more about seasonal flowers or ask your local florist.
4. Tulips
The Netherlands ' most famous export, tulips are an excellent choice of flowers for your girlfriend. They're available worldwide and are associated with deep and perfect love.
In even better news, they're very affordable compared to many other bouquets. So if you're on a budget, tulips might be the solution. Not only can you get them in a huge variety of different colors, but even different patterns.
5. Daffodils
Daffodils are the flower associated with the 10th wedding anniversary. But this doesn't mean you can't get them for another occasion.
They're associated with good luck and happiness, as well as new beginnings. This is probably because they're one of the first flowers to appear in Spring. Much like sunflowers, these are a warm and positive bouquet for your girlfriend.
Which Flowers For Your Girlfriend Will You Pick?
As you can see, when it comes to the best flowers for your girlfriend, there are a lot of options. You don't have to stick to roses, there are plenty of other beautiful alternatives your girlfriend is sure to love.
We've got plenty more helpful relationship tips and advice on our blog, so be sure to take a look.