When you hear the term "tombstone," what comes to mind? Maybe you picture a spooky Halloween scene or a classic, historic cemetery.
While "tombstone" might seem like a dated term, it's actually still relevant in the world of end-of-life planning. Whether you call it a tombstone, a gravestone, or a headstone, it's important to choose a burial monument that will stand the test of time.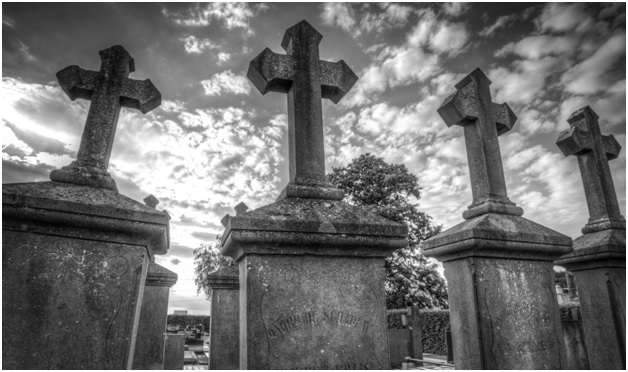 To learn more about the difference between headstone vs. tombstone, keep reading below. We've got a headstone guide that will fill you in on everything you need to know!
What is A Tombstone?
The term "tombstone" was first used in the 1500s. It originally described the lid of a coffin that was made of stone. Over time, it has come to refer to the stone placed at the head of a grave to mark a burial site.
When you imagine a typical grave marker in a cemetery, the thing you are thinking of is probably a tombstone.
Tombstones are usually engraved with details about the deceased. This could include the date of birth and date of death, the name of the deceased, quotes and sayings that were meaningful to them, and identifying titles like "mother" or "wife."
Typical tombstone designs include large rectangles, specific shapes like angels or hearts, and couples tombstones with space for both partners.
What is A Headstone?
The word "headstone" has a shorter history than the word "tombstone." It originated in the 1600s, and was always used to describe a visible stone marker. Headstones originally featured information pertaining to buildings, but later came to refer to a marker on a gravesite.
Although they have different etymology, "headstone" and "tombstone" are now used interchangeably. Both words describe upright stone grave markers.
When using a tombstone guide or researching tombstone options online, you can expand your search by including results for headstones. You'll find even more options!
Headstone Buying Guide
If you're looking into purchasing a grave marker, a headstone or tombstone guide is a useful place to start. Research online to see what sizes and materials are available in your price range.
Make sure that you take location into account, too. Prices can vary depending on where you live and where you plan to place your grave marker.
With modern technology, you can etch granite with any photo or piece of artwork. Companies like SuperNova International offer high-quality customizable granite that makes a unique and beautiful tombstone. No matter what your vision is, you can make it come true!
Understanding Headstone vs. Tombstone
As you can see, the difference between headstone vs. tombstone is mostly semantic. But no matter what you call it, this tombstone guide can help you decide on the best grave marker for your needs. End-of-life planning is an important thing to consider, and it's always nice to give your friends and family a beautiful marker to remember you by.
For content about entertainment, lifestyle, and more, check out our website. Our articles cover everything from real estate to SEO marketing!