As getting digital has now become an integral part of our routine, the increase in demand for virtual event platforms has risen significantly.
Virtual event platforms are a great tool that helps in broadcasting the in-person event to a wider range of audiences across the globe with their dedicated service providers. At the heart of any virtual event platform, there is a way for the audience to engage.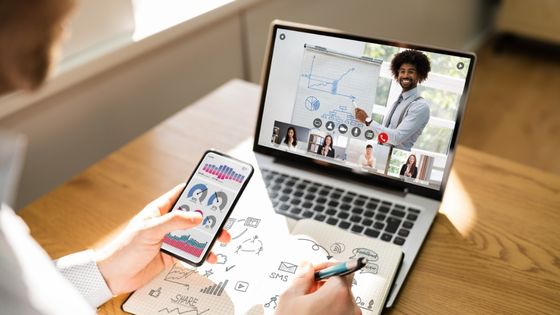 In this blog, we are going to discuss the striking features of virtual event services, and key points that should be kept in mind while going to select the best suitable platform for your event.
Virtual Event- All you need to Know
Virtual events take place online rather than happening physically. They allow the remote audience to connect easily and are replacing meetings, conferences, and seminars.
Basically, it is a two-way real-time interaction with the audience. With the coming of live streaming services for events, this task has now become a lot more manageable shaping your event dreams into reality.
With the help of ideal keynote speakers, this event can engage the audience for hours & helpful in building strong connections.
There are many different types of virtual events happening around the world. All you need is to choose your target audience, content & suitable choice of event type for your audience. Though webinars are among the most popular virtual events which are trending. Some of the major challenges while hosting a virtual event have been described below –
Lack of strategy while making the content
Lack of technical support & Expertise required
Lack of audience engagement
No knowledge of working of ROI
Lack of security awareness
Top 5 Virtual Event Features
With too many service providers in the race, the choice has become more complex. Below is the list of some of the popular striking features of these events which can attract the audience's attention –
Hybrid Townhall
Town hall meetings are for those organizations whose offices are spread across different nations so that employees can attend the meeting easily while sitting at a remote location.
With the features like AI matchmaking, attendee footprinting, and access management hybrid town halls are one of the most engaging virtual event solutions.
Hybrid Webinar
Hybrid webinars are essentially in-person events or a series of in-person events which are integrated with the online audience who can listen to audio, see visuals & participate actively in the session
It is more than just the live streaming of the event that benefits both the virtual attendees as well as in-person viewers.
Facebook Live Streaming
Facebook lets you live stream events, gatherings, and performances. Viewers can easily watch the event on their mobile devices, laptops, or TV Screens.
It also includes features like sending reactions, emojis, and comments on real-time events.
Virtual Tradeshows
Virtual trade shows take place in an online environment, that has been hosted for a limited period of time. It is more like an exhibition where visitors tend to connect with each other on the web and collectively watch the live demonstration of the product or services.
With the help of online meeting platforms, virtual tradeshows are categorized into different subcategories of – web conferences, webcasts, webinars, etc.
Guide to the Best Virtual Event Platforms in 2022
Selecting the most appropriate platform for your business is very crucial for the growth & future possibilities for expanding your business. Below are some of the common yet most handy tips to make your choice more selective –
Scalability
Not all events are designed to handle thousands of guests but there are a few which have the solution for this. For hosting a large trade show or a global summit, scalability is one of the crucial factors to look around.
The last thing you want is your audience facing problems in joining your event, entering a live seminar, etc. Try to rely on some of the best virtual event platforms to reduce the chances of issues.
Pricing of the Event
As events can be organized according to the requirement & type of the budget allotted for the same, the same matters in the case of technology that is used to run those events.
For hosting good virtual events, there are chances that the budget may vary wildly so be well aware of the pricing and allocated funds for your event.
There are some virtual event tools that cost mere few dollars & there are some which are worth a thousand dollars so it's up to you & your capacity to make a wise choice.
User Feedback
Adding a new feature without actually knowing much about it might reduce the audience's attention & ultimately downgrade your business growth.
Choosing the service while considering the taste of the audience – their likes & dislikes will surely help you in finding the best live streaming event services.
Go for a solution that is stable
You don't want your virtual conference to be the first conference that is taking place on a brand new platform. After all, it's your reputation that is at stake.
Pick up from the available choices very effectively. Virtual platforms with the best customizable options come up with the most effective audience engagement service & that's what your business needed the most.
Conclusion
All your performance can be affected by the choice of selection of virtual event services. Choosing the right fit for your event can do truly impressive meetings, conferences or getting together with your audience or guests.
Just have a look at your budget, needs, and feedback from the audience for your specific topic. Review your strategy thoroughly before executing your event.
Whether it's a small meeting, conference, or webinar with your business partners if you're able to perform in person, you can do it online too with more ease and comfort.
Working on enhancing your abilities to draw audience attention with interactive activities & thought leadership style virtual event solutions provides a fantastic opportunity for learning and networking.