Gardens, if not well cleaned and tidied, can serve as a perfect home for rats and mice. Shelter, source of food and water, and free space to run are all that is needed for rats to be settled into the garden. The presence of rats and mice in the garden is not wanted because they are not only a nuisance, but they also spread various diseases, and getting rid of them is important.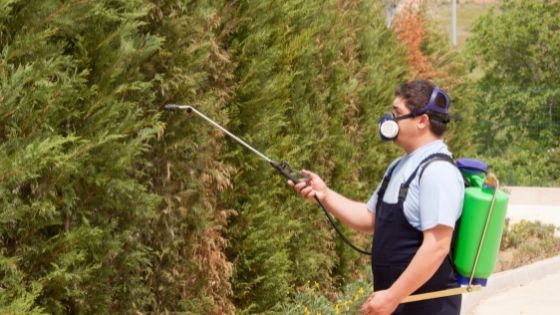 Signs of rats in the garden
Holes or burrows of about 6 – 9 cm in diameter are present around the garden.
Presence of tracks (5 – 10 cm wide) along walls, hedges, banks, and through vegetation. Rats are known to memorize and use the same path to and from their shelter.
Damage is done to food, packaging, and barriers by making holes or expanding existing holes. Marks on fruits area sign of the presence of mice in the garden.
Tips to get rid of rats in the garden
Keep your garden well ordered
A well-ordered and tidy garden is less attractive to rats and mice because they provide little or no room for them. Keeping your garden clean by keeping the grass short, proper disposal of trash, clearing clustered areas and more will help reduce or prevent the presence of rats in your garden. Garden bins should be tightly sealed, and trash bags should not be left outside for long.
Get rid of their food and water sources
Rats like every animal need a source of food and water, identifying and taking away their source of food and water helps get rid of rats. Sprinklers and birdbaths should be removed from the garden, taps, and pipes should also be checked for leakage. Bird feeders should be inspected or brought down, and pet bowls are removed for a short period.
Use baited traps
Baited traps can be set in strategic areas around the garden using small cages and food bait. Baited traps are mostly used when the kind of rodent infestation being dealt with is not known because it helps capture the rodent alive.
Get a Pet
The presence of a pet such as a dog or a cat can help reduce or get rid of the presence of rats and mice in the garden. Pets can help deter the rats by hunting them out and eliminating them.
Use of pest control
The use of pest control should be an absolute last resort, after all another method has failed to get rid of them because chemical pest controls can affect the environment and other wildlife. Pest controls can be purchased in garden centers and should be used carefully. To carry out a pest control exercise, you need to first identify where the rat's hideout and pathway. Follow the manufacturer's instructions on how the pest control is to be used. It is safer to seek professional help when dealing with pest control. You can find out more details here.
Conclusion
Getting rid of rats and mice isn't difficult if they are detected early enough, so it is good to keep an eye out and be vigilant. If you want to learn more about getting rid of rats we can help provide more information.