Have you been wondering how to host a backyard movie night that everyone will love?
Then you've come to the right place! We've compiled a list of our top seven backyard movie night ideas to get you started.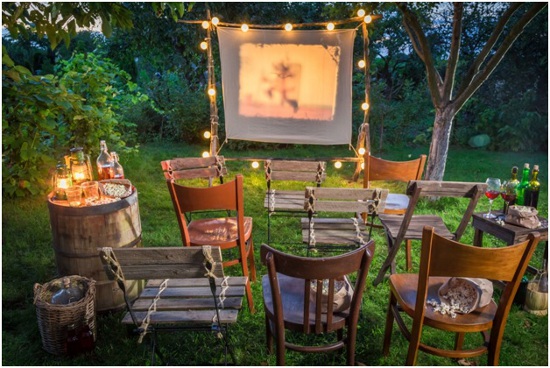 Let's jump in and see what's on the list!
1. DIY Outdoor Movie Screen
Starting with the basics, you'll need a movie screen.
You can take an ordinary white bed sheet and turn it into a movie screen. You can hang the sheet on a fence or the side of the house. Then, when you're not using it, just roll it up and put it away.
If you don't feel like doing it yourself, consider an outdoor projector screen rental. Search "backyard movie night screen rental near me" to get results.
2. Projector
For a movie night in the backyard, you'll also need a projector. Many local libraries have projectors for rent, so you don't have to buy your own.
You can also make a DIY projector using a shoebox, magnifying glass, and a smartphone. There are instructions to help you.
3. Comfortable Seating
Don't forget to have comfortable seating for your movie night. You can use cushions and throw pillows to make DIY movie seats.
Or, you can let kids make their own seats from cardboard boxes. First, let them decorate the outside. Then, they can use pillows and blankets to make the inside comfortable.
For a quick option, lay down blankets and pillows on the ground. Bean bag chairs and low-seated chairs are also good choices.
4. Lighting
Lighting isn't something you would think of for movie night ideas. But it's important to remember to schedule your movie for after the sunsets. During sunset, it can be difficult to see the film clearly.
However, when it gets dark, you still want to have some lighting so guests can use the bathroom or get snacks during the movie. Using string lights or lanterns is great to have some light, but not enough to ruin the film.
5. Movie Snacks
Hosting a movie night isn't complete without snacks! Of course, popcorn is a classic choice. Whether you pop your own or rent a popcorn machine, your guests will love it.
You can also have ice cream, candy, cookies, crackers, or other snacks you enjoy.
6. Movie Night Tickets
Everyone knows you need a ticket to see a movie. So why not make printable movie tickets right from your computer. You use tickets to admit guests into the event and offer them all you can eat popcorn.
7. Red Carpet Entrance
If you want to take your event to the next level, create your very own red carpet! You can make a sign using a poster board. Use red felt or scrap carpet for the runway. Everyone will love strutting down the carpet before settling in for the movie.
Our Top Backyard Movie Night Ideas
There you have it! Seven of our best backyard movie night ideas. With these, you're sure to have a fantastic event for adults and kids.
For more fun content like this, make sure you check out the Entertainment section.