Have you been imagining the perfect patio space but not sure how to make it happen? A patio is a great way to get more use out of your yard and create an outdoor space you want to spend time in.
But a patio can be more complicated than people expect. And the process might take longer than you want. But if you start with a solid plan and work through the process with patience, you'll have a great patio to use and enjoy in no time.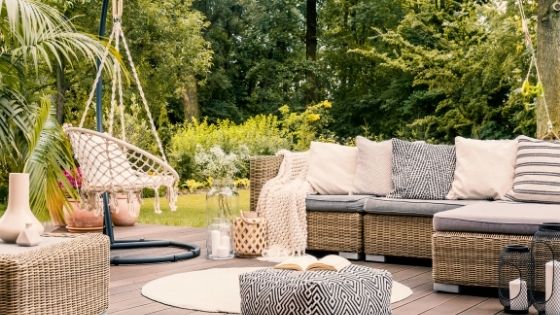 The sooner you start, the sooner you'll be done. So take a look at these steps and you'll know how to design a patio.
The Purpose and Use
Why do you want a patio? This might feel like an easy question you can answer off the top of your head, but try to be specific. Think of all the ways you want to use your patio, and what kind of events or activities you will do on it?
Are you looking to create a grill space where you can make amazing steaks and even enjoy them outside? Are you trying to create an area where family and friends can sit out and enjoy the sun or shade?
The way you start designing a patio is by imagining why you want one. How do you want to fill the space and what for? You can get great ideas for how to fill the space from places Elite Patio Direct.
Size and Style
A home patio can mean a lot of different things. It can be a veranda where you can sit and enjoy the sun. It can be a full outdoor kitchen where you can host dinner parties in beautiful weather and cook outside.
The size you want will be dictated by your yard size and what you want your patio to have on it. You may want a small intimate patio that feels more private and secluded, which will also change the style of how you want to build and decorate the space.
A patio can look and feel a lot of different ways, so don't limit yourself to the basics when you're planning your dream design. Look at what other people have done and let your inspiration run wild.
Build a Budget
When you have some good ideas about what you would like your patio to look like and the scale you anticipate, start building your budget. You want a hard number at the top that you cannot go over so you know your limit when planning expenses.
You can dream big but the actual building needs to reside in reality since everything will cost money and time to achieve. When you build your budget, have your final cost and get a few estimates for how much the design will cost in total so you can start trimming down or adding things to meet your ideal price.
DIY or Company Time
Are you able to build your patio design yourself? Or is this something that will require more than a few DIY YouTube videos? Hiring a company will play into your cost estimate and also help you get a better idea of the time it will take.
With a patio, you may need a professional, but you might not. Thinking about all the elements you want and be aware of your limitations. It might be harder for a company to come in and clean up a false start before beginning fresh if you realize halfway through that you can't finish the project on your own.
The Materials
When you're planning your patio style, you probably have already noted some of the materials you will need. Building a patio out of stone, brick, or wood, will change the cost and the building requirements.
Some materials will be easier to work with than others, and your style choice might change depending on your backyard as well. There may be delays when ordering materials as well, so be prepared for that when you're thinking of your timeline.
Go Local
If you're hiring a company to construct your patio for you, it's likely they have their own sources for materials to build with. But if you're doing it yourself, consider trying to get things from local sources to be more sustainable and support your local economy. It could also save you time since you won't have to wait on certain shipments.
Plant Life
When you have your construction underway, don't forget about any possible vegetation you might want to build into your patio. A home patio can work well with a garden adjacent or as a part of the patio itself. Get creative with your options if you have a green thumb, and incorporate planting into your timeline.
You might put the decorations at the end of the process, but if you want plants to grow, they need to go in the ground sooner rather than later. And if you need to order things, don't delay so they arrive right when you need them.
How to Design a Patio
When you're learning how to design a patio, it is a lot more about planning and then planning some more. A patio is like an extension of your home. It can feel like a whole new room to explore and enjoy.
Don't settle with a simple patio area if you have other grand ideas. Look up lots of images to get inspiration and then see how they could work in your own yard. And if this helped give your patio ideas more room to grow, keep reading for additional tips and tricks.