Saving water in your garden is equally important as saving electricity in your home. It's because a healthy, thriving garden needs water.
Water-saving not only saves you money but can also bear an ecological benefit. In periods with high demand, the environment also gets great water stress. It plays a crucial role in helping protect nature. Moreover, using less ensures that the water prices don't go up since using more water when there is less available contributes to water prices.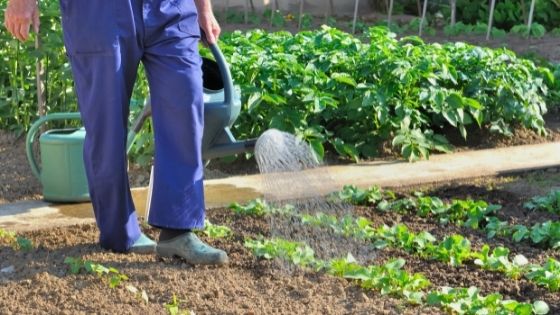 Before all this, it's essential to educate yourself about gardening. Planning and other factors that need to be listed before starting a garden are critical because no one wants to do something without closure.
The following outline highlights some crucial tips that can help you save water in your garden:
1. Harvest Water
Using harvested water is more advantageous because it'll save you from excessive water bills. The first step is to ensure you have essentials that help you store water during rainy seasons, such as water tanks, but to ensure to get a quality, durable, and eco-friendly water tank for it to sustain you longer. Check on the following website to see excellent preferable tanks to get watertankfactory.com.au/types/slimline-water-tanks/. However, how much you collect depends on where you stay if you experience more rainy days or less.
2. Apply mulch
Applying mulch to your garden stands as one of the simplest ways of saving considerable amounts of water. It can help by significantly reducing evaporation, allowing the soil to maintain moisture in your plants for more extended periods.
Additionally, mulch discourages the growth of weeds in your plant's surroundings. And since weeds have the exact needs as those plants that you have in your garden, they also need water and sunlight to grow. So, if you have weed in your garden, it can affect your plant's growth.
3. Spread Compost
Spreading compost helps your garden preserve water in your soil. Compost consists of organic matter or humus that can absorb its load in water, increasing water retention. Composted plants add nitrogen to the ground to help the plant grow faster and healthier. Remember, it also does well, along with mulching.
The advantage of compost is that you'll have to water your plant less frequently than before since the moisture is stored for a more extended period. It also provides essential nutrients that increase your soil in good condition.
It means that any plant that grows in your garden will be better equipped with less water within dry seasons.
4. Have Fewer Thirsty Plants
Having fewer thirsty plants in your garden will help you save water. It's mainly applied to people who live in restricted areas, like in the regions that experience more droughts. Normalize smaller plants, narrow, and curled leaves that dries quickly.
Avoiding plants that need a lot of water to grow helps you save water in your garden. One way to avoid these plants is to plant them during drought season with less water and high temperature to see if they survive the weather.
These plants have the habit of sucking up enough water which can help them survive in drought. It means that they can consume almost everything that you provided far from taking in less water.
5. Use Wise Watering Techniques
There are many intelligent techniques in watering your plants other than walking around a hose pipe in your garden. By creating when watering your plants, you can save a large amount of water. For instance, sprinklers, watering can, intelligent controller, and many more. These techniques can apply both in small and large areas.
The smart controller effectively water plants individually by individual giving them enough water. The advantage of an intelligent controller is it focuses on the plant itself, unlike sprinklers. It's also best to areas with mulched because it can soak the soil directly without splashing it.
6. Train Your Plants
You can train your plants to sustain drought. You can do this by not overwatering your plants even when the water is available. When you give them less water, you encourage their roots to go deeper in search of it, making them survive in a less watery environment. This way, you may not water them more often.
Conclusion
As illustrated in the above article, none of the ways are complicated to implement. With a bit of technique and education about water consumption, you can heavily save water in your garden. Implementing these ways can also have some benefits to the environment.