Furniture is a part of everyone's life; you find it everywhere and in every room, you look. The furniture is an irreplaceable item in a household.
Irrespective of the size of the house or the money one makes, a piece of furniture is a necessity. In most places in a home, you see furniture, and in every room, there will be at least one piece of plywood furniture like a chair, table, cupboard, etc. And as expected, the global plywood market will grow exponentially from 2020 to 2027 and reach a $108.1 billion value. It shows that the demand for furniture made of plywood is always in need.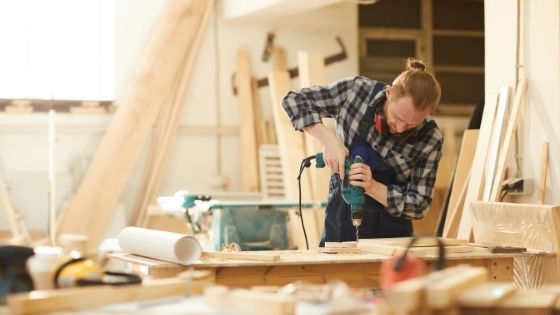 Furniture is for sitting, lying, or keeping some items on top or inside of it. Different rooms have different sets of furniture like the bedroom has a bed, the office has a desk and chair, the dining room has a table and dining chairs, etc.
The reasons for choosing plywood furniture are as below:
It got the best looks: Starting with the looks, nobody doubts the smooth and clean finish of plywood furniture. It sometimes looks better than the natural wood; and even better if a top-quality veneer is applied.
Strength: A plywood is usually stronger than wood if you compare it with the same size as regular wood. It also has the rigidness we don't see in a natural wooden piece. With the cross-grained nature of plywood, the strength distributed evenly makes it more complex and more robust. You can make it stronger with the use of veneer and phenolic adhesives.
Durability: As plywood has an evenly distributed strength in all directions, it has more durability than traditional wooden furniture. It can take more weight, hits, and rough usage than ordinary furniture can.
Lightweight: Having insanely high durability and strength doesn't make it any heavier than natural wood. It is a lightweight product-making it apt for commercial applications.
Availability in large sizes: A single piece of wood is never enough for a large dining table or an ample cupboard. But a plywood sheet is made in large sizes up to 1800mm in length and 1200mm in width.
Doesn't split: The natural woods do split over time, especially when attaching something on it, drilling, or driving a screw through it. On plywood, this doesn't apply; the cross-layered structure saves it from splitting.
Best for creating curved surfaces & offers thickness: Plywood is designed to make curved surfaces and corners, which is difficult in other woods. The thickness is adjustable in plywood, unlike the natural wood, which we can only decrease by cutting from the available ones. An entirely manufactured material has this advantage over standard wood.
Eco-friendly: Of course, plywood is artificial, but it is made of specific wood material like timber and mixed with chemicals to get the desired results, making it an ideal choice for people who care for the environment.
Every room has a reason to exist in the house, and those rooms must be well decorated and filled with the appropriate furniture. A piece of plywood furniture can entirely change how a place looks and better the material used in the furniture, the luxurious one feels while entering the home. You can get more info from zen decor ideas.