No matter how careful you try to be in routine life, you can never be completely safe from various safety hazards around you. The danger of getting involved in an unfortunate accident increases when you are at a busy workplace, where there is a lot of foot traffic and a greater chance of encountering slipping and tripping hazards. Whether due to a poorly lit hallway at a corporate building or a wet floor at an active construction site, you can acquire severe physical injury in a slip and fall accident.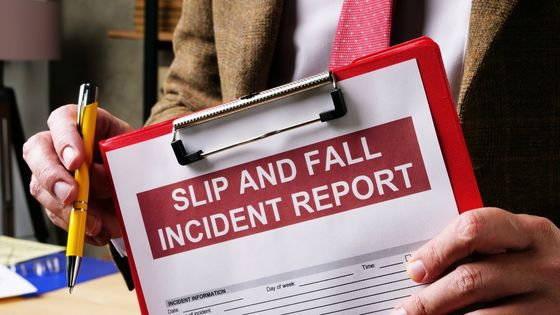 In most cases involving slipping and falling, the injury is severe enough to warrant prolonged treatment and hospitalization, resulting in a significant decline in an individual's quality of life and earning capacity. If you suffered a slip and fall at work, you might be entitled to compensation if you believe your injury resulted from someone else's negligence. You should consult an experienced personal injury lawyer for legal guidance as soon as possible after the incident to ensure that your legal rights remain protected.
Causes of Workplace Slips
Most slip-and-fall incidents occur at office buildings due to easily preventable public safety hazards, including broken flooring, lose or torn carpeting, uneven pavements, missing guardrails, malfunctioning elevators or escalators, dim lighting, liquid spills, wet floors, and more. Although these hazards might appear trivial, they predispose everyone in the building to severe slip and fall injuries that might even result in death.
What To Do After the Accident
Although it might be challenging to think clearly after your slip-and-fall accident, you can take a few important steps to ensure that no individual or entity would infringe on your legal rights in the future. You should document the site of the accident and your injuries thoroughly and ask any eyewitnesses to corroborate your claim in their own words. You should immediately seek medical attention for your injuries and report the accident to the office management or the landlord to establish a paper trail for documentation of your incident.It is important to keep a copy of this report and write all the details of the accident so that you may not forget anything if you must recall the incident in future legal proceedings. After taking the contact information from any eyewitnesses along with their statements, you should immediately call your lawyer. It is important to avoid signing any documents until you have obtained a legal consultation.
Types of Compensable Damages
If you were injured in an accident involving slipping and falling, you might be entitled to financial compensation, including medical bills, costs of surgical treatment, costs of physical and occupational therapy, lost wages, emotional suffering, loss of consortium, incidental expenses, punitive damages, and more.If your accident was partly your fault, you might still be able to sue the negligent party for damages. However, the total amount you receive as compensation would be lower according to the percentage of your fault for the accident. For example, if you were to be awarded $10,000 for your successful personal injury claim and your fault is determined to be 10 percent, your compensation would be $9,000.
Conclusion
If you suffered a slip and fall injury in an accident at your workplace or an office building, you might be able to pursue legal action against the negligent party. Consulting a lawyer immediately after the incident is a great way to ensure you will get the justice you deserve. Your work is obligated to provide the care necessary for you to recover. Especially if you are not able to work for several days you need the financial support to keep you afloat. Therefore, it's important to reach out to a legal service that can help you as soon as possible.