Tattoos are a viral sensation these days. Almost everyone has one or is considering getting one. Around 36% of US citizens aged 18-29 have at least one tattoo.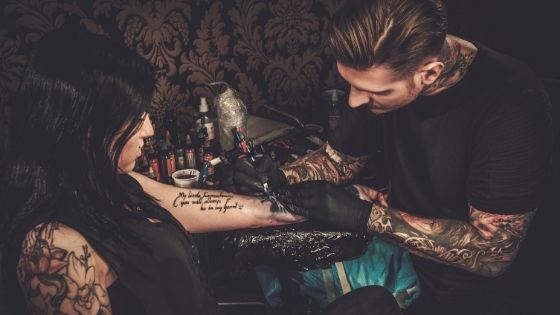 If you think of getting a tattoo, you need to find a tattoo artist near you. Next, it's essential to do your research and ask for recommendations before settling on someone. This article will discuss what you should check when finding a tattoo artist.
1) Professionalism
When you use an online directory to find a tattoo artist near you, the first thing you should check is their professionalism. It includes things like making sure they have a valid license and insurance. It would help if you also read reviews to see what other people have said about their experience with the artist.
Some things that speak about professionalism include:
Do they have a valid license?
Do they have insurance?
Are they punctual?
2) Portfolio
It is crucial to look at an artist's portfolio before booking an appointment. It will give you a sense of their skill level and what kind of styles they are comfortable working in.
When looking through an artist's portfolio, pay attention to the following:
The overall quality of the work
If the tattoo looks clean and well-done
If the lines are straight and even
If the shading is done well
The overall composition of the tattoo
Remember that every artist has their unique style, so don't be afraid to ask around until you find someone whose work you can connect with.
You can look for unique designs like watercolor or dotwork or stick to more traditional styles like black and gray. The important thing is finding an artist whose work you love and who you feel comfortable with.
3) Sterilization
It is crucial to ensure that the artist is using sterile equipment. All needles should be individually wrapped and opened in front of you. The tattoo area should be cleaned with a sterile wipe before the artist begins.
The artists should also be wearing gloves while they work. If you see them touch anything besides your skin or the equipment, they should stop and wear a new pair of gloves.
The studio should also be clean and organized. There should be no blood or bodily fluids on the floor or surfaces. The artist should be using a fresh set of disposable equipment for each client.
If you have any concerns about the sterilization procedures, it is vital to speak up. An online business directory can be a great place to find tattoo artists in your area.
4) After-care Services and Instructions
Lastly, you should always inquire about after-care services and instructions. A good tattoo artist will go over the dos and don'ts of taking care of your new tattoo. They will also provide you with a list of products to ensure optimal healing.
For example, a quality artist will suggest using an ointment like Aquaphor for the first few days, then switching to a lotion once the tattoo is dried.
An online business directory is the best way to find a tattoo artist near you. You can quickly see the artist's portfolio, compare prices, read reviews, etc. So, please go through the factors mentioned above before searching for a tattoo artist.