The Rambagh Palace is a premium hotel in Jaipur's affluent district, built in a former Maharaja's summer palace. This hotel oozes royal grandeur throughout, living up to the high standards of the renowned Taj brand. This hotel is distinguished by its meticulous attention to detail. The grounds are huge, with 14 different event and conference rooms. The main disadvantage is that breakfast is not included in the pricing. Let us read about Rambagh Palace TOUR PACKAGE.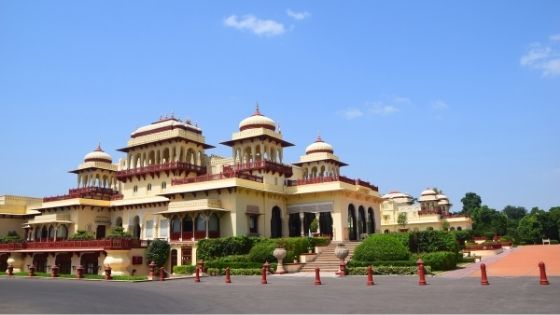 Location of Rambagh Palace
Rambagh Palace is the ultimate of high-end elegance and sophistication, housed in a 20th-century palace (the former summer residence of the Maharaja of Jaipur). Hand-carved marble latticework, classic cupolas, and sandstone balustrades are examples of Rajasthani and Mughal influences in the architecture and interiors. Everything about this hotel screams royalty, as visitors are greeted with a regal procession while a photographer snaps their picture under the royal umbrella.
Interiors of Rambagh palace
The interiors contain a lot of white marble, pastel colours, expensive furnishings, and artwork and décor with a royal theme. Chandni Chowk is a spacious courtyard encircled by halls and rooms with a few seats interspersed among the wonderfully sculpted plants and water elements. The Mughal Gardens offer nicely manicured gardens and walkways along with statues and water elements that encircle the property. The lawns are home to about 150 peacocks. The Rambagh Palace is usually visited by high-end tourists, whether for business or for pleasure.
Located in Jaipur's posh district, adjacent to significant government offices.
Rambagh Palace lies in the posh section of Jaipur, just outside the ancient city, on Bhawani Singh Road. Across the street lies the Sawai Man Singh Cricket Stadium. The Rajasthan High Court (15-minute walk) and the Secretariat are only a few of the key government structures nearby (20-minute walk). Rajasthan Polo Club and Rambagh Golf Club (13-minute walk), Albert Hall Museum (12-minute drive), Jantar Manter (18-minute drive), and City Palace and Hawa Mahal (13-minute drive) are all popular neighbouring attractions (20-minute drive). A bus stop is located outside outside the hotel, while the Jaipur Railway Station and metro station are 25 minutes away by car. Jaipur International Airport is roughly a 20-minute drive away.
Air conditioning, minibars, and customised amenities are available in the opulent and tastefully furnished rooms.
There are 13 different categories, each with its own characteristic highlight. The suites are all distinguished by their own architectural architecture and vivid décor. Original artwork, vintage furniture, patterned rugs, and plush bed linens are among the furnishings. A pillow menu, softer or firmer beds on request, a bath menu, a yoga kit, complimentary bottled water, and newspapers are just a few of the minor extras in each room that add to the overall luxury experience.
Dining
Five dining options, an indoor and outdoor pool, a romantic spa, a fitness facility, and event space are all available.
The fact that the Rambagh Palace is located in a palace is its most appealing aspect. Of course, this hotel has a slew of other impressive amenities, starting with a total of five dining options. Suvarna Mahal provides a regal Indian meal; Rajput Room and Verandah Cafe are both all-day dining restaurants with a variety of cuisines; Steam serves wood-fired pizzas; and Polo Bar has a sophisticated cocktail list. Breakfast is best served in the Rajput Accommodation, albeit it is not included in the room charge. Private dining is also offered, as well as 24-hour room service.
Weddings at Rambagh Palace in Jaipur:
The Rambagh Palace, located in the heart of Jaipur, has hosted a number of exquisite events, including weddings and other ceremonies. Textured chambers and soft furniture abound in this Royal Palace. The gardens have been set up in such a way that they appear to be immaculate.
The guests are greeted graciously by Rajasthani traditional ladies dressed in adorned camels who execute the 'Tika' rites. Weddings can take place in a large and expansive location. They have a cocktail party hall that is well designed
Also available are acres of lawn for pre-wedding activities and acres of lawn for the wedding ceremony. The indoor banquet hall can accommodate more than 500 guests at any given moment. It is also the finest time to celebrate Haldi, Mehendi, and the engagement ceremony.
Swimming pools
Indoor and outdoor swimming pools, as well as an outdoor hot tub, are available. Jiva Grande Spa's ancient Indian health therapies, as well as yoga and meditation in the yoga pavilion, provide ultimate relaxation. Modern TechnoGym cardio equipment and free weights are available 24 hours a day, 7 days a week at the 24-hour fitness facility. Croquet, a putting green, and table tennis are all available. There are 14 different event venues accessible, which are ideal for business meetings, seminars, cocktail parties, and weddings. Free on-site parking and Wi-Fi are available throughout the facility. A 24-hour business centre, valet parking, Kids@Taj programmes, babysitting, a travel desk, palace historical tours, and butler services are among the other attractions.
Conclusion
Jaipur is known as the "Pink City" and the state capital of Rajasthan. The buildings in this area have a distinct dominant colour pattern. It is known as India's "Pink City" because of its pink tint. Jaipur was built by Jai Singh 2, the Rajput prince of Amer. Without a doubt, all of these attractions, as well as many others, must be included in the JAIPUR Rambagh Palace TOUR PACKAGE.
Because Rajasthan has a hot and humid environment, it is best to come in the winter. The months of November through March are the coldest in this location. Summers in this location are quite hot, therefore sightseeing at this period will not be a pleasant experience. When it comes to the rainy season, it is quite humid and hot, which is not at all pleasant for visitors.
This Rajput monarch is responsible for the city's name. The city was created by Vidyadhar Bhattacharya, making this regal location one of India's first planned towns. Jaipur is part of the "Golden Triangle Tourist Circuit," which also includes Agra and Delhi.