Did you know that solar panels can increase your home value up to $15,000? Aside from this, installing solar panels can help reduce your utility bills. In addition, there's a whole range of benefits that you can reap when you go green.
Still on the research stage of the go green movement? Then, this article is for you! Here's a quick guide on the types of solar panels to help you decide which to install on your roof.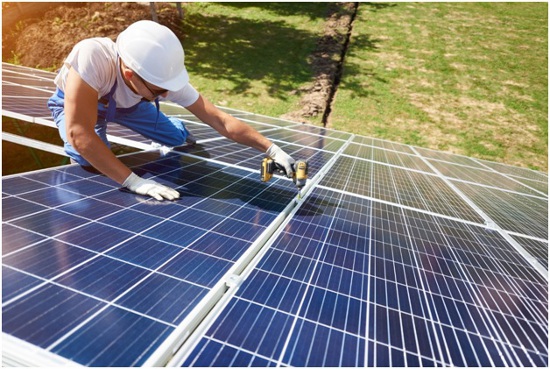 Monocrystalline Solar Panels
This type of residential solar panel is also known as a single-crystal panel. This is mainly made out of one big chunk of a pure silicon crystal. The cells are black, which is one of the identifying features of monocrystalline.
Moreover, because these panels use pure silicon, energy can easily flow through them. Hence, it has the highest energy efficiency rating among all types of solar panels. Monocrystalline solar panels have an energy efficiency rate ranging from 17% to 22%.
Monocrystalline panels also have a higher wattage allowing them to produce more power. A few monocrystalline solar panels are enough to generate the power you need to run your house. As such, it's considered the most space-efficient type of solar panel.
Aside from the colors, there are a variety of monocrystalline solar panels to choose from. One of the most preferred options is the Passivated Emitter and Rear Contact cells or PERC. This type of solar panel is an improvement of a traditional monocrystalline cell. Read on to learn more about PERC residential solar panels.
Common Types of Monocrystalline Solar Panels
A standard traditional solar cell has two layers of silicon. PERC cells have an added layer plastered on the back of the traditional solar cells.
This extra layer allows PERC to reflect and capture more sunlight. Hence, it can generate more energy compared to ordinary monocrystalline solar panels.
Another type of monocrystalline technology in the market is bifacial roof solar panels. Bifacial solar panels have a transparent back sheet. This back sheet allows sunlight to go through the panel and reflect off the ground surface.
Instead of reflecting off to the open surface, the sunlight is immediately reflected on the panel's backside. This allows bifacial panels to generate power both from their front and backside.
Bifacial solar panels are typically made with monocrystalline solar cells. Yet there are polycrystalline bifacial solar panels available on the market as well.
Polycrystalline Solar Panels
One distinguishing feature of polycrystalline panels is that their cells are bluish hue. This is because polycrystalline cells have a different way of reflecting sunlight.
Like monocrystalline panels, polycrystalline panels are also made of silicon solar cells. However, polycrystalline solar panels undergo a different cooling process. Instead of forming a single silicon crystal cell, it forms different silicon crystals.
Since they have many solar cells, it's harder for the electrons to move. As a result, these solar panels have lesser energy conversion efficiency rates as their energy efficiency rate averages from only 15% to 17%.
Polycrystalline panels' manufacturing and assembling process results in less wastage, making them more affordable than monocrystalline panels. Manufacturers pour the melted silicon fragments into a square mold. This gives polycrystalline solar cells their characteristic square shape.
Moreover, because their silicon purity and construct are lower, they are less space-efficient. Polycrystalline solar panels also have lower heat tolerance compared to monocrystalline panels. Hence, polycrystalline solar roof panels aren't ideal for high-temperature environments.
Furthermore, polycrystalline solar panels have lower wattages. However, both types of solar panels consist of 60, 72, or 96 silicon cell variants. Note that although monocrystalline and polycrystalline panels are the same size, the latter produce more energy.
Thin-film Solar Panels
These types of solar panels for roofs are newer developments in the solar power industry. The fine layers of cells found in thin-film panels are thin enough to be flexible. Hence, they have a wider range of applications.
The cells are mainly created by layering thin sheets of conductive material. These are then topped with a glass layer for protection. Since this panel doesn't need a back frame, it's lighter and easier to install.
Unlike crystalline panels with standard sizes, thin-film panels can come in different sizes. Hence, it can suit specific needs that crystalline solar panels fail to meet.
Yet the biggest wow factor of thin-film panels is that they're super thin. The cells in these panels are 350 times thinner than those in crystalline solar panels.
Do note that we're only talking about the thickness of the cells of the thin-film panel and not its entirety. When you consider the frame used in thin-film solar panels, its size can double.
There are adhesive thin-film solar panels that can make a smooth roof surface when added. More durable frames which are 50 millimeters thick are available. For the color, depending on the material they're made from, thin-film solar panels can come in blue or black.
Issues with Thin-film Solar Panels
The disadvantage of thin-film panels is that they have the lowest energy efficiency. This type of solar panel's average energy conversion efficiency for roofs is 11%. Further, compared to monocrystalline and polycrystalline, thin-film panels also have the lowest power capacity.
Another issue is that they use a lot of space. Hence, there isn't the first choice for residential installation. Moreover, these have a shorter lifespan; thus, they have the shortest warranties.
Thin-Film Solar Panel Variations to Consider
Unlike crystalline panels that use silicon crystals, thin-film solar panels use different materials. Thin-film solar panels are usually made from cadmium telluride, copper indium gallium selenide, and amorphous silicon.
Cadmium telluride solar panels are cheaper; thus, it has a shorter payback period. Most homeowners can finish paying for cadmium telluride thin-film panels in a year. Cadmium telluride solar cells also have low water requirements for production.
Besides this, it produces the lowest carbon footprint. Yet cadmium is toxic by nature. Hence, recycling this will be more expensive compared to other materials.
Amorphous Silicon
It only takes a fraction of silicon to make an amorphous silicon solar panel. Since it has the lowest production cost, it's the cheapest type of thin-film solar panel.
Amorphous silicon panels also use a triple-layered technology. This is why these types of thin-film panels are only 1 micrometer thick.
Yet while it's the thinnest type of thin-film panel, it's at the expense of efficiency. The highest efficiency rate of amorphous silicon solar panels is 7%.
Copper Indium Gallium Selenide (CIGS)
This combination of elements makes it possible for CIGS to have the highest efficiency rate among thin-film panels. However, the efficiency level is still not comparable to crystalline solar panels.
Types of Solar Panels: Choosing the Right Solar Panel for Your Roof
How will you know which among the types of solar panels is right for your roof? There are various elements to consider, including the cost, power capacity, and more. Read on for a more detailed explanation!
To start, monocrystalline panels are the most expensive types of solar panels. This is mainly due to the costly manufacturing process.
Polycrystalline panels have a simple manufacturing process. Hence, they're less expensive than monocrystalline ones. Also, the cost of thin-film solar panels will largely depend on the type of material used.
Aside from the cost of the panels, you should also factor in their installation cost. On average, solar panel installation with Blue Raven Solar cost more or less $15,000.
This price is subject to change depending on the location of your property. For homeowners residing in regions far from the equator, expect a more expensive bill.
For installation costs, thin-film panels are the best option for those on a budget. Since these solar panels for roofs are easier to maneuver, they don't need additional labor. This means lower labor costs which imply a less expensive installation fee.
Power Capacity
Since thin-film panels have no uniform sizes, it's difficult to pinpoint a standard power capacity. Yet it's widely known that crystalline panels have higher power output than them.
Standard 60-cell polycrystalline panels have a power capacity as high as 240 watts. Newer versions can even bridge the gap and reach 300 watts. However, monocrystalline panels are the best choice if you're looking for high-power solar panels.
Temperature Coefficient
There are solar panels that produce less power when the temperature rises. This decrease in power is commonly termed as temperature coefficient.
Monocrystalline solar panels have a temperature coefficient of -0.3%. On the other hand, polycrystalline panels have a temperature coefficient of -0.5%.
Meanwhile, thin-film panels have a coefficient of -0.2%. This means that thin-film panels are the best choice for hotter environments.
Choose and Install the Best Type of Solar Panel for Your Roof
Monocrystalline, polycrystalline, and thin-film solar panels have their merits and demerits. Hence, much of your decision when choosing among the different types of solar panels will depend on the specifics of your property. Consider the climate of the region you live in, the size of your roof, and how much power your house consumes daily.
We've got tons more fact-filled articles that can satisfy your curiosity! So visit our site today and check out our latest post.