When looking for the ideal watch, there are several factors to consider satisfying our expectations. Nomos Glashutte watches are simple, flawlessly constructed, and provide some of the finest value in the industry. Also, this brand makes some more sophisticated dress watches. The watches they make, in particular, are unquestionably among the best in the world. Despite being significantly younger than its rivals in Glashutte, Germany's watchmaking hub, Nomos has a disproportionately large effect on the watch business.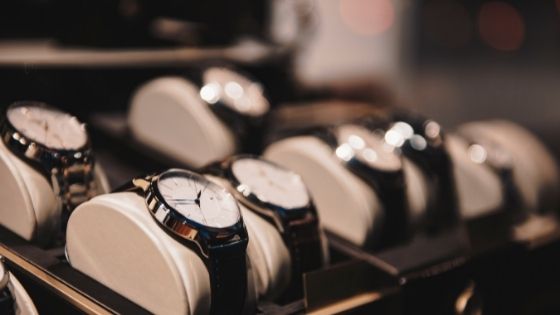 Is the Nomos Glashutte watch worthwhile to own? Is it suitable for watch collectors who are a novice to the hobby? Nomos Glashutte's quality and craftsmanship are exceptional, and they have garnered a great deal of attention. It will also provide you with excellent value for your money. This youthful brand is one of the world's most popular watchmakers, adored for its in-house mechanisms, contemporary design, and great value. Here are the highly recommended Nomos Glashutte watches.
1. Nomos Glashutte Ludwig
The first item on our list is the Nomos Glashutte Ludwig, which is remarkable for its qualities. This watch is a manual-winding 38mm white dial watch. Powered by Nomos Glashutte's in-house manual-winding Alpha movement, this lovely Ludwig watch is a clever design that combines a small 33mm size with a traditional appearance. The watch has a very feminine finish since it fits with a delicate natural-colored velour strap.
It has an hour track display in Roman numerals, but with IIII rather than IV at the 4 o'clock position. The amazing 43-hour power reserve is visible via a clear sapphire-backed case. The 33mm Nomos Glashutte Ludwig watch is accurate around the clock and elegant on the wrist, making it ideal for any occasion.
2. Nomos Glashutte Tangente
This watch is for those who value a simple yet powerful approach to their look. The Nomos Glashutte Tangente watch is just gorgeous on the wrist, adding a touch of luxury to this timepiece. It features typical white silver-plated dials offered in two significantly different iterations.
You can have it with tempered blue steel hands and one with rhodium-plated steel hands. Nomos designed this watch with an in-house-built accurate automatic caliber, a fashionable accessory, and a scratch-resistant sapphire crystal that is water-resistant up to 50 meters, making it suitable for everyday wear.
3. Zürich World Time
Zürich takes award-winning elegance to the wrist, combining beautiful form with sophisticated mechanisms to create an impeccable impact. There's something remarkable about the design of this timepiece, which is elegant, manly, and self-assured. It is truly a global watch. The lugs feature an inward curve, and the case comes studded with diamonds.
This stainless steel watch case features six screws and a sapphire crystal glass back. Its sapphire crystal is glass-domed and has an anti-reflective coating on both the inside and exterior. It's a water-resistant automatic watch with a genuine black strap. If you want a wristwatch that looks like the Zürich World Time, this one-of-a-kind timepiece is perfect for you.
4. Nomos Glashutte Orion
This watch is one of Nomos Glashutte's most elegant timepieces. In addition, the Nomos Orion is the designer's favorite at Nomos Glashutte. The Nomos Orion watch is basic because it has a simple and clean layout that catches the eye of watch collectors. It's one of their most avant-garde watches to date, featuring a white dial that displays its lovely silver color.
They have reduced the dial of the watch to its essentials, exemplifying the best of the Bauhaus, Deutscher, and Werkbund traditions. A stainless steel case with lovely flowing curves and lines has a diameter of 35mm. This self-winding watch has blue hands and gold indices against a white silver-plated dial.
5. Nomos Glashutte Tetra Clärchen
Tetra is a square watch developed by Nomos in Berlin to represent four major sites in the German metropolis. A timepiece inspired by their monuments. If you desire a watch like this, read on to learn more about its characteristics. You will definitely love this watch as much as watch lovers do.
The Tetra Berlin series is a Nomos-inspired blend of classic and contemporary embellishments. Nomos Glashutte Tetra Clarchen case is 29.5mm square and 6.3mm thick with stepped lugs. The sapphire back reveals the in-house Nomos alpha caliber, which has 17 jewels and a power reserve of 43 hours. It has Glashutte decoration and is a really beautiful little movement.
6. Nomos Glashutte Ahoi
A timepiece designed specifically for diving activities, Ahoi combines many of the same ideas but in the shape of a streamlined diving watch. They often praised the Ahoi Date Siren Blue watches for being as blue as the sky and for much more, in addition to their exceptional precision in keeping time. This watch has a 36.3mm broad and 9.55mm thick casing, automatic DUW 3001 caliber, and water-resistant up to 200 meters.
The dial of this stainless steel watch is sky blue and features a round face with a special feature The hour markers alternate between Arabic numerals and indexes, and the hands are in a dazzling silver-tone finish. The hand for the seconds sub-dial is neon orange, giving this watch a one-of-a-kind look that stands out.
7. Nomos Club Neomatik
A watch that is perfect for those who desire a watch that can keep up with their active lifestyle. This model is also part of the Aqua series, so if you like water activities, you should choose the Nomos Glashutte Club Automatic Date Siren Blue Dial. It features a transparent case-back and is waterproof to 200 meters (660 feet).
It also includes a scratch-resistant sapphire crystal, a stainless steel case with a grey cloth band, and luminous silver-tone hands. There is a green glow to the Superluminova hands and numerals of the Nomos Club Neomatik watch at night. You won't have to set this Nomos Club Neomatik watch regularly because it can do it on its own.
Conclusion
Nomos Glashutte is not as long as any other top brand, but we guarantee it will be good to acquire. It may be new to the industry, but its quality is among the best. Nomos Glashutte is excellently executed and gives some of the greatest watches. The list above is some of the most recommended Nomos Glashutte watches. You can still check other watches at WatchShopping.com, allowing you to look at more and other timepieces offered by Nomos Glashutte!