The United States Office of Industrial Relations limits the use and buying of heavy machinery like forklifts for the safety of the users from using heavy hazardous equipment.
This leaves the business owners to purchase used lift trucks. It is not only a more intelligent and cost-effective choice for the companies but also good for the environment because you will be using existing resources. As a result, used forklifts are an excellent choice for the business and carry value for money.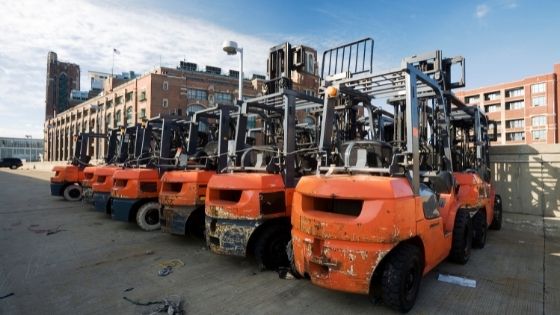 However, while purchasing any used machinery for your business, you should consider a few key aspects.
1. Ensure the Lift Truck Meets Your Needs
Lift trucks or forklifts are used for commercial, industrial, and personal purposes. Depending on your use, it will have various requirements. Therefore, it is essential to always consider the purpose before deciding on the forklift. You need to identify the usages and then move to the purchasing.
You need to keep in mind the following points.
The primary purpose of the forklift.
The tasks and placements of the machinery, whether it is indoors or outdoors.
The loading and unloading weights it has to carry.
The place where you will be using it and whether or not there are any restrictions placed regarding heavy machinery.
Any seller will ask you the requirements, and you need to consider these points before making the actual purchase.
2. Check All the Parts
Always take a visual inspection before buying used lifting equipment. Look for any types of damage like unfinished repair, fluid leaks, rusting, and any damage done to the forklift. If you are purchasing a forklift online, you can ask the seller for a demonstration video of the machine.
You must check:
The forks and masts for any signs of rust or cracks.
Look for any visible damage on lift chains, rails, and cylinders.
Check for any bends on the frame, canopy, and loader.
Essential features like security should be highly functional.
Check for any visible damage in the engine compartment and the main lifting parts.
3. In the case of Electric Forklifts, Check for Battery Life
If you are purchasing electric used lift trucks, make sure to check the batteries of these trucks, as it is difficult to replace the batteries and expensive. You should make sure that the battery is in good condition and can be used for a long time after it is purchased. The average battery life for a lift truck is between 1200-1500 charges in which each charge can be used for almost five hours.
4. Test Drive and Warranty
Testing and purchasing is the general practice that all must follow. Always ask for a test drive or get an operator to drive it. It will give you a precise exposure of the truck, and you can inspect for any damage or oil leaks.
A valid warranty is essential when purchasing machinery. When buying used forklifts, companies offer a good warranty on them at times. If the forklift is in fair condition and has the manufacturer's warranty, transfer the warranty. Also, see that the warranty is not cancelled on resale.
Conclusion
If you are a business owner and thinking of buying a forklift under your budget, a used one will be an excellent choice. Make sure you do solid research and purchase from a reputable dealer.