Man's best friend is like us in so many ways; indeed, each animal has its own personality and there are specific characteristics with every breed. When choosing a pet for life (is there any other way?), it is important to choose a suitable breed that will enhance your life and theirs.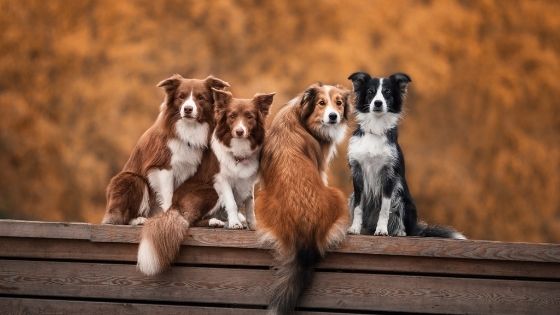 Here is our list of top breeds of dog and a little about each breed's characteristics.
⮚ Labrador Retriever – This amazing breed is usually near the top of every best dog list; the lab is faithful, intelligent and always eager to please. They come in long and short hair versions and this is a large breed, weighing 23-35kg when fully grown; labs need lots of exercise and make for the perfect family dog and they are great with kids and other dogs (usually). Labs are used as assistance and guide dogs because they have an excellent temperament and are easy to train. What starts out as a ball of fluff, will quickly grow to be a strong, muscular dog who will be a best friend for life. Of course, nutrition is vital for a large dog; check out the range of Zamipet dog supplements to boost your pet's energy levels.
⮚ Staffie – The Staffordshire Bull Terrier is another large breed that is very playful and possesses unlimited amounts of energy; they make for great pets and working dogs. Weighing in at around 18-20kg, this medium sized breed is nicknamed the 'nanny dog' because they are ideal companions for children. This breed is easy to steal as the staffie is friendly to all humans, not exactly a good guard dog, yet they can be aggressive with other dogs. Gentle and very playful, this is a high energy breed that needs wide open spaces. Staffies are easy to train, which is a big plus!
⮚ Border Collie – This breed is generally accepted as being the most intelligent and they are used by farmers to guide livestock to and from locations. They love working for extended periods, are very hardy and always ready to spring into action; farmers use a range of whistle tones and short commands to guide the dog as it herds livestock (mainly sheep), yet the border collie also makes for a great pet for someone with lots of wide-open space. Click here for a few of the benefits of having a pet.
⮚ German Shepherd – The German Shepherd is recommended for older children, making for a great companion and also a good guard dog. Very intelligent and eager to please, this long-haired breed can weigh in at up to 40kg and their long coat does need brushing. They are used by the military and police, as they are intelligent and easy to train, while having a suitable temperament for this kind of work.
⮚ Beagle – Traditionally a hunting dog that was bred for the gentry and their fox hunting; this short-haired breed is very friendly and makes for a good guard dog due to a keen sense of hearing and smell. You will know when someone approaches your front door! Beagles are slightly smaller than staffies and are very active, which means daily long walks in the park.
If you are ready to introduce a dog into the family, why not take a rescue dog? They all deserve a second chance at happiness. There's a lot involved with raising a family pet and you must understand that a dog is for life; you will develop a great relationship with your pet and have a faithful companion for life.