It's family picture day, which means it's time to get Junior to smile while keeping your other child from picking their nose. And, of course, you'll also have to muster up a smile on the count of three.
The reality is, it takes a lot of work to capture a stellar family photo. But the work doesn't start in the studio or the photography setting. Rather, it starts long before you ever get to the studio — in your family's closets.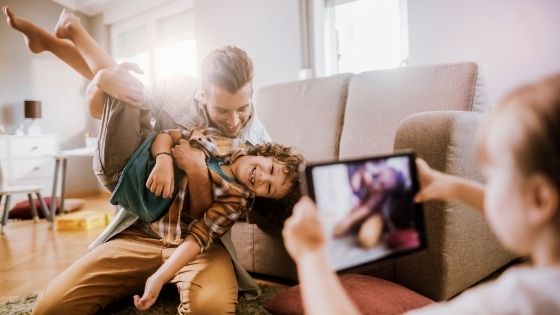 One of the biggest challenges that families have around picture time is figuring out how to dress for family photos. Fortunately, we've compiled a simple guide explaining how to make sure that everyone looks their best the next time you say "cheese."
Let's get started!
How to Dress for Family Photos? Don't Match One Another
In the past, family members used to match their outfits with the goal of producing a truly unforgettable photo. Those days are long gone.
Nowadays, it's not necessary for everyone to wear the same outfit. Instead, you can choose two colors to sport in your photo, then pick clothes that fit your chosen color scheme.
Not choosing matching colors can easily make your photo more visually interesting. In addition, it's an excellent way to allow each family member's personality to shine more.
Keep It Simple
You may be tempted to let your little ones sport their favorite t-shirts featuring their favorite cartoon characters. But don't.
When taking family photos, it's best to avoid wearing characters on your shirts, as they can be quite distracting.
The same is true for patterns. Rather than wearing clothing with patterns on them, you and your family should try to wear solid colors, as patterns can look far too busy on film.
Consider Your Surroundings
When choosing your family's color scheme for photo day, keep the location of your photo shoot in mind. The surroundings should influence your color choices.
For instance, if you take a picture outdoors with a photographer like Tammy Cynar Photography, you may want to wear bolder colors versus lighter pastels. For instance, consider donning stoney blues and vibrant yellows, which will stand out against a nature-focused, green background.
Also, keep in mind that if you plan to take a picture at the beach, you'll be surrounded by neutral tones. In addition, during the fall season, the foliage around you may be bright depending on your location. You should avoid picking color palettes that will compete with these types of backgrounds.
Fortunately, your photographer can help you to pick outfits that will complement your particular setting.
How We Can Help
In addition to explaining how to dress for family photos, we offer a wide variety of other valuable tips for families this spring.
For instance, through our site, you can learn how to organize your kitchen pantry perfectly. You can also find out how to start gardening like a professional for aesthetically pleasing results.
Take a peek at our site to learn more about how to enhance both your life and your family members' lives in the weeks and months ahead.