When you introduce yourself to someone you're trying to do business with, you don't end things on a handshake. You end the conversation by handing them your business card. Later the person you were talking to will spot the card sleeping in their wallet and remember to give you a call.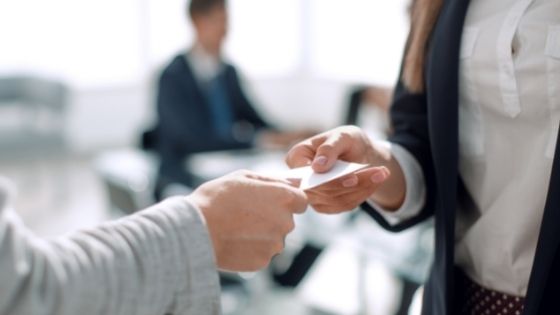 At least that's what you hope will happen. The quality of your card will determine if that person decides to do business with you further.
If it's cluttered and hard to read, they'll toss the card away without a second thought. How do you stop this from happening? Check out this business card design guide to learn how to impress your potential customers.
Show Off Your Brand Personality
You're a professional in your industry, but that doesn't mean your card has to be boring. If you're an excitable dog walker who can't wait to meet a bunch of new furry friends, the clean-cut look isn't going to work well for you.
You need a design that's going to reflect your brand's personality. It's okay to add splashes of color and a fun font at the print shop as long as you don't go overboard.
Less Is More
When it comes to making the best business card, you should hold back a little. If you try to squeeze in a bunch of graphics and use a font that's hard to read, your card will end up at the bottom of someone's wastebasket.
Not only are cluttered cards hard on the eyes, but they appear tacky as well. All that should be on the card is your logo, name, business title, and contact information.
Card Quality and Size
You should spare no expense when starting your business. That goes from the quality of your equipment to your business card printing.
Your card is going to sit in someone's wallet for a while. You don't want to go with a flimsy material that can't handle that level of wear and tear. This being said, don't be too extra either.
You don't need a metal card or one with a USB device. They're too flashy. If you use them, you'll come across as a bit pretentious.
You also want to be careful with the size of your card. It should be small enough to fit in someone's pocket or wallet. If they're too big, it's an inconvenience.
Double Check Your Info
Your business card serves a single purpose. To pass on your contact information to potential customers. It can't do that job if you don't put the right information on it.
If you misspell the name of your business or leave out a digit in your phone number, nobody will be able to get in touch with you. To say that makes you look incompetent is an understatement.
Designing the Perfect Business Card
Your business card serves as the first introduction between yourself and a potential client. If it's hard to read or too cluttered to make sense out of, it will end up in the garbage.
Use these design tips to create a card that will leave a lasting impression in the minds of your customers.
Having a killer business card is only one aspect of promoting your company. Check out our blog daily for tips and tricks that will help you make your business thrive.