Whether you're designing a new bathroom or renovating an old one, choosing the right design and style of bathroom fittings can help you achieve an aesthetic look. Choosing the right colour is essential in creating a subtle yet glamourous bathroom look.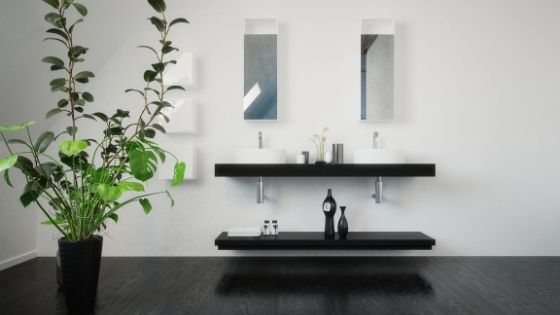 Adding an elegant wall hung vanity unit inside your bathroom helps in enhancing its appearance while providing you with extra storage to store your essential toiletries.
Opting for the right colour, design style, shape, and colour is essential. It will transform the look of your space. This article aims at helping you choose a suitable wall-hung vanity unit for your bathroom.
What is a Vanity Unit?
A vanity unit is an excellent furniture design that includes a bathroom sink and a storage unit. They are designed in a way to hold the sink, as well as provide you with storage space to store all your bathroom essentials.
You have plenty of vanity units to choose from in the market, but it's essential to choose the right ones that enhance and optimise your bathroom space.
Interior design experts suggest choosing the right colour shades, preferably neutral colours, that will go perfectly with your overall design. The key is to create a perfect balance between structure and function.
Best Colour Shades for Vanity Units
When choosing the right colours for your wall-hung vanity unit, you must try neutral colours to give a minimalistic look to your space. This makes the bathroom look cleaner and timeless.
A darker shade vanity unit can, on the contrary, grab all the attention away from the interior onto itself. Before selecting any one vanity unit for your bathroom, you can try consulting experts who will help you choose more wisely.
A Grey Appearance
Grey-coloured bathrooms are widely popular and are trending among modern bathrooms. The once dull coloured shade is now a crowd-favourite. You can choose to go all glossy or all matte, depending on the interior of your bathroom.
You can blend in almost any background colour with grey shaded vanity unit furniture. It gives your washroom an elegant and rich look.
Monochrome Colours
A monochrome colour palette is another high-in-demand interior design trend for modern bathrooms. The look it creates is timeless space and makes your washroom look spacious.
Black and white are the two widely preferred colours of all time. They stand out beautifully against the background of your walls. You can choose from several patterns available in the market.
Wooden Design
Nothing looks more classic than natural wooden textured vanity unit furniture. This is another popularly growing trend in modern bathroom designs and gives your space a rustic and natural look.
Chestnut and mahogany are ideal choices. You can pair these with cream-coloured tiled walls or a patterned wall. This also gives your bathroom floor a contrasting look.
What to Keep in Mind Before Buying a Vanity Unit?
When choosing a wall-hung vanity unit for your bathroom, it is essential to keep a few things in mind to avoid selecting a bad one. There is no one size that you can go for by default.
It is always better to measure your washroom space and the dimensions of the unit you wish to install as it takes up some space inside. If your bathroom is smaller, you can consider going for compact sizes.
As the design world is expanding, so are the choices and options available in the market. Vanity units serve an essential function for your bathroom space and also help it look elegant and aesthetic.
Make sure to go through several products, compare your options and then make your final choice.