For some inexplicable reason, it always seems to be the case that the larger the space you have in terms of your private property, the fuller and more cluttered it seems and feels.
Even though there is definitely something to be said for the concept of minimalism, as a busy person living in the modern day, no matter how hard you try, you will always accumulate far too much stuff for your home.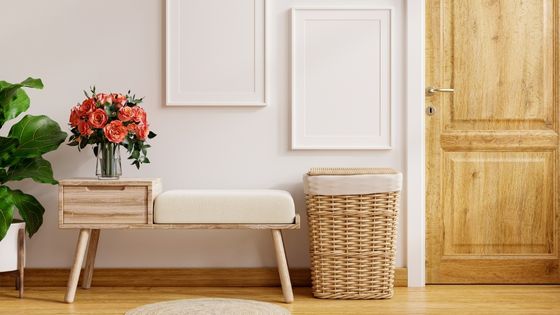 Instead of conducting painful annual purges of your beloved possessions, it is time to turn your attention to being cleverer and more proactive with your storage ideas and solutions.
Japanese Screens
If you have ever watched a movie or even documentary series which centers around Japan and the rich and fascinating culture of design created there, then you will already be familiar with Japanese screen dividers.
Not only will investing in a beautifully painted screen be a focal point and indeed, a talking point, from anyone that visits your home, but you can hide all manner of sins behind the screen. For example, if your laundry baskets, washer dryer and hangers are stored inside the home rather than an out-house, a stunning Japanese screen divider is the perfect solution.
Suitcase Trunks
An incredibly stylish and certainly full of personality choice for storage in your bedroom, living room and even in the hallways is to buy some reasonably priced secondhand suitcases and arrange them as decorative items.
Inside each suitcase, you could keep old clothing you know you will never wear again but somehow still refuse to part with, or even items such as swimming goggles and scuba equipment which you will only ever need when you go on vacation.
Cozy Yet Functional
Aside from the kitchen, undeniably the most used and indeed most enjoyed room throughout your entire home is the living room.
When looking into living room storage ideas which are both attractive and useful, if your living room is very much a family room, then you should let go of the idea that everything has to be tidied away at all times. Instead, embrace the coziness that attractive baskets and wooden trunks brings to the room and start to keep everything hidden from view, rather than shoved in the closet upstairs.
Height, Height & More Height
Finally, and this is certainly wholly relevant in every one of your interior living spaces, instead of packing the floor with decorative and functional storage items, instead look to utilizing wall space instead.
One of the most attractive yet practical ways to do this, for example, is to invest in lightly colored wooden ladders to flank either side of your couch. On each rung of the ladders can be stored baskets, to house all manner of odds and ends, or indeed more ornamental and sentimental items. When choosing the latter for your new decorative ladders, you can be safe in the knowledge that your prized possessions are both on display to be admired, yet not at risk of getting broken.