Goa is a hotspot for youth travellers with its lively nightlife and beautiful beaches along the western coast of India. People often plan their itinerary to go on a tour, while visiting some new place, but sometimes purposely getting lost might bring out the explorer in you. You can confirm your booking from banbanjara.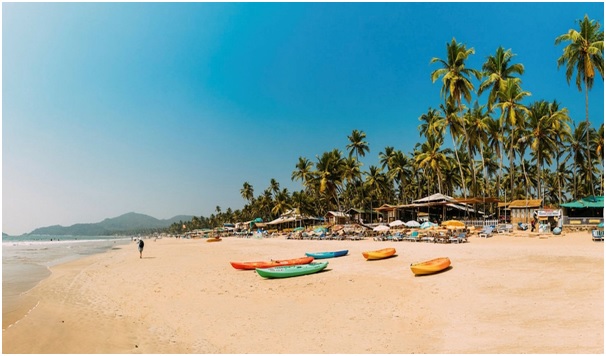 If you want to scourge the hidden places in Goa away from the tourist crowd, here is the list of places worth visiting.
Galgibaga Beach:
Galgibaga Beach is one of the lesser-known beaches in Goa due to the hassle of reaching the destination. Although, the efforts are definitely worth the spot as it is one of the cleanest beaches that can be found in India. Away from the popular beaches offering buzzing nightlife, this beach gives you a peaceful walk around 1 kilometre shore, mesmerising sunsets and calming sound of waves.
Try to visit this beach from December to February when you can come across the Olive Ridley turtles crossing the shore.
Chorla Ghat:
Chorla Ghats, a natural destination in the western ghats, is located at the intersection of Goa and Maharashtra borders. Elevated at a height of 2,600 ft offers various waterfalls and misty views of the ghats.
Anjunem Dam along the way is a picture-perfect stop and at some elevations you get a vantage view of the same Dam. The zig-zag scenic route among the mountains is another added bliss. Chorla ghats with its sub-tropical forest also houses some rare wildlife like barred wolf snakes. If you wish to make the most of your tour in Chorla, be sure to visit during monsoon.
Cumbarjua Backwater Canal:
Cumbarjua situated on the banks of Mandovi river in North Goa is yet another unexplored place in Goa. You can spot rare crocodile species known as Marsh Muggars which have adapted saltwater habitat on your boat ride in the canal.
Apart from spotting this unique species of crocodile you can engage in bird watching like kingfisher, storks, kites and many others. On your ride you can indulge in the beauty of mangroves and the backwater canal housing approximately 50 Mugger crocodiles.
Bat Island:
Bat Island or Pequeno Island is dotted with numerous rocky beaches and the island itself looks something out of a postcard. Located about a couple of miles away from Vasco da Gama's Baina beach, is the perfect offbeat destination in Goa. Only accessible by a boat ride, this island is also known for its snorkelling activities. You can spot dolphins on your boat ride or mesmerise by the vivid coral reefs. There are a number of colourful shoals like parrot fish, angel fish, tigerfish, lobsters and many more that you can see swimming past you as you take part in snorkelling.
Three Kings Church:
Three Kings Church offers the most scenic route making it a perfect short road trip to Cansaulim village which is 10 km away from Vasco da Gama. Driving through the ghats of South Goa relish in uninterrupted greenery, cool breeze and stunning view.
The Church is believed to be one of the most haunted places in Goa and therefore entry after 6 pm is not permitted. As the church is built on Cuelim hill, away from all the settlement and shops, not many tourists know about this place. The 360-Degree view of the sea from atop the hill where the church is located makes this place worth visiting.
Also, every year on January 6th, Three Kings Church hosts a feast which is widely famous in Goa.
Tambdi Surla
Located at a distance of 65 km from Panaji, Tambdi Surla is a 12th century Jain style temple dedicated to Lord Shiva. The temple is deep in the natural habitat of green vegetation and western ghats, giving the entire location a serene look. The entire temple is carved out of basalt rock and houses Shiva Linga at the center with an idol of headless bull, Nandi.
This Dravidian architectural beauty is amidst the river of Surla and flanked by waterfalls. As this place is somewhat inaccessible the tourist crowd is comparatively less.
Ruins of St. Augustine:
St. Augustine church which was once among the largest of Churches in Goa, now stands in ruins. Constructed by Augustinian friars in 1602 it was the most stunning architecture of its time. Although the remnants of what was left behind is a 46-meter-tall Church tower, the eerie feeling of the historical ruins will definitely fascinate you.
The contrasting backdrop of the calming river of Mandovi from atop the hills with green carpeted ground is another thing to look forward to.