Does your profession fall under the "dangerous job" category?
Power plant employees, electricians, oil and gas workers, and firefighters are just a few of the professionals who rely on flame-resistant clothes.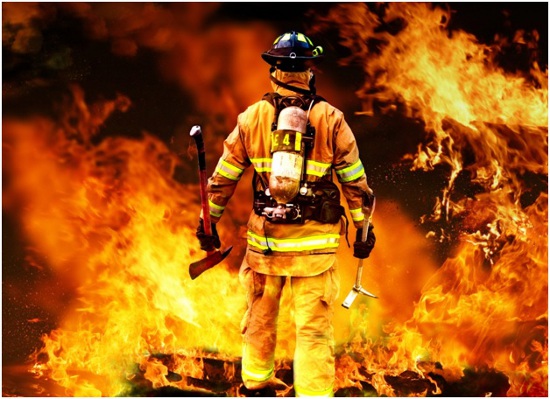 If you're a supervisor or manager, you may be tasked with buying fire-resistant uniforms for your staff too. In fact, you could be hit with a safety compliance fine if your team doesn't have the proper attire.
Let's unravel the facts behind flame-resistant work clothing.
Types of Flame-Resistant Fabrics
Did you know that wool has flame-resistant properties?
Many people are surprised to learn that wool doesn't ignite easily like other fabrics. Its naturally high water and nitrogen content make it difficult to burn. When it does burn, the fibers smolder for a bit before snuffing out on their own.
Wool is the most naturally fire-resistant fiber. This doesn't mean other natural materials like cotton and silk are in the same boat; these materials are highly flammable on their own.
However, with advances in safety apparel manufacturing, some of the safest clothes are made from 100% cotton.
Treated Flame-Resistant Fabric
For example, electrician uniforms are made from cotton blends treated with flame-retardant applications.
Factory and machine shop workers wear protective clothing made from treated cotton, acrylic, and nylon blends.
Indura Cotton is a popular fire-resistant fabric for welders, pilots, and stunt drivers. This cotton is treated with flame-resistant polymers for maximum protection.
Wool-based safety clothes are also treated with special applications, like Proban. Popular Dickies and Carhartt pants are treated with Proban too.
Synthetic Fabrics
Most fire-resistant fabric is made from synthetic materials.
For example, firefighter uniforms are typically made from synthetic Kevlar and Nomex fabrics.
Thin, comfortable Kevlar allows more freedom of movement for firefighters. Nomex is another breathable flame-resistant fabric, first developed for race car drivers in the 1960s.
PBI is a fascinating synthetic fiber. This fabric doesn't burn or melt under high temperatures. It also has chemical-resistant properties.
Since PBI is more expensive to produce, PBI-based clothing is more expensive than cotton-treated safety clothes. PBI is frequently combined with Kevlar to produce high-quality safety gloves.
How to Buy Flame-Resistant Safety Clothes
Understanding flame-retardant materials will guide you toward the right clothes. Next, research industry-standard safety fabrics in your niche.
Do you need Kevlar-based clothes?
Will cotton-treated uniforms suffice?
Do you need fire resistance and high visibility?
These qualities are essential for construction workers and other dangerous professions. Look for fire resistant clothing in neon colors with ANSI-approved reflective strips.
Make sure you're buying the right safety vest classification too. There are three vest classes. Class 1 vests are for low-impact jobs, while class 3 is for the highest impact roles.
Always consult the latest safety standards when buying uniforms for tough jobs.
Optimize Workplace Safety
Make sure your team has the latest work uniforms. Dangerous careers need reliable, flame-resistant clothes to match. Keep this guide handy as you purchase clothing for your staff.
Safety clothes are essential, but don't stop there. Follow the blog to discover the latest trends in your industry.