Peppermint soap can help refresh your skin, relieve stress and anxiety, improve circulation, reduce inflammation, cleanse your skin, and fight body odor. It's a one-stop shop for all your skin care needs! Plus, peppermint soap in the shower can be a great way to start your day on the right foot (or the right toe?). So, why not try it and see how peppermint soap can improve your skin and mood?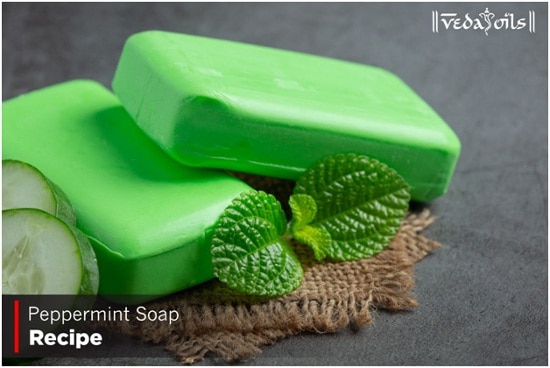 What Is Peppermint Soap Good For?
One advantage of using soap with peppermint essential oil rather than peppermint fragrance oil is that it cleanses the skin antibacterially. It relieves itchy skin and has been used to treat urticaria (hives). This peppermint soap recipe can also aid in reducing inflammation brought on by acne, pimples, and insect bites. Above all, it makes a wonderful present for your loved ones.
Naturally Colored Soap With Peppermint
The natural colorant used is half a teaspoon of green clay. The all-natural peppermint and the olive oil itself provide the remaining color. After a few days, the soap will resemble the one in the photo, featuring a rustic appearance with a less vibrant hue due to the peppermint turning the soap brown.
Those who prefer a greener soap can follow the recipe using plain extra virgin olive oil, green clay, and a smaller amount of the natural colorant, around 1/16 or 1/8 of a teaspoon. Despite the less vibrant color, the natural colorant still adds a touch of charm and character to the soap, which some may find appealing.
How To Make Tea Tree And Peppermint Soap At Home? DIY Recipe
If you're a fan of peppermint soap and want to try making it at home, you're in luck! Here is a refreshing and invigorating soap with the added benefits of peppermint and tea tree oil!
Ingredients:
Glycerin Soap Base – 500 Grams
Peppermint Essential Oil – 10-15 Drops
Tea Tree Essential Oil – 10-15 Drops
Soap Colorant (Optional)
Soap Mold
Microwave-Safe Bowl
Spoon
Spray Bottle Filled With Rubbing Alcohol
Peppermint Soap Recipe:
Step 1: Cut the glycerin soap base into small cubes and place them in a microwave-safe bowl.
Step 2: Microwave the soap in 30-second intervals until it has melted completely.
Step 3: Add the peppermint leaves or peppermint essential oil and tea tree leaves or essential oil to the melted soap base and stir until well combined.
Step 4: If desired, add a few drops of soap colorant to the mixture and stir until the color is even.
Step 5: Pour the mixture into the soap mold and lightly spray the surface with rubbing alcohol to prevent air bubbles.
Step 6: Let the soap cool and harden for at least two hours or until it has completely solidified.
Step 7: Remove the soap from the mold and cut it into bars or shapes once the soap has hardened.
Conclusion
Are you looking to make your own soap or add essential oils to your homemade skincare routine? VedaOils has got you covered! They offer a wide range of high-quality soap-making supplies and essential oils, including peppermint and tea tree oil, perfect for creating invigorating and refreshing soap blends. With their commitment to natural and pure ingredients, VedaOils is the ideal source for those seeking to incorporate natural and eco-friendly products into their daily routine. Check them out for all your soap-making and essential oil needs!
FAQs: Peppermint Soap Recipe
Q1: Can I use fresh peppermint leaves instead of dried ones?
Ans: You can use fresh peppermint leaves in your soap recipe. However, remember that the moisture content in fresh leaves can affect the consistency of the soap, so you may need to adjust the recipe accordingly. Also, fresh leaves may result in a milder scent than dried leaves or peppermint essential oil.
Q2: Can I use peppermint extract instead of peppermint essential oil?
Ans: While you can use peppermint extract as a substitute for peppermint essential oil, remember that it may not provide the same intensity of scent or therapeutic benefits. Peppermint essential oil is highly concentrated, whereas peppermint extract is typically a mixture of peppermint oil and alcohol, which can affect the final product.
Q3: How long does it take for the peppermint scent to fade in the soap?
Ans: The longevity of the peppermint scent in your soap can vary depending on the recipe and the storage conditions. Typically, the scent can last a few months to a year if stored in a cool, dry place away from sunlight and moisture. Adding a few drops of peppermint essential oil to the soap before each use can also help to refresh the scent.
Q4: Can I add other essential oils to the peppermint soap recipe?
Ans: You can add other essential oils to the peppermint soap recipe to create unique scent blends. Some popular essential oils for peppermint include lavender, eucalyptus, and tea tree oil. However, be sure to research each oil's properties and usage guidelines before adding them to your soap recipe.