If you're a keen beach biker, you likely already know the answer to "What is a beach cruiser bike?" It's an upright-style bike designed for riders' comfort and durability while pedaling along beaches, trails and paths. Cruisers typically feature thick, puncture-resistant tires, padded seats and step-through frames. However, if you're a beginner beach biker, here are five tips to get you going on the right track.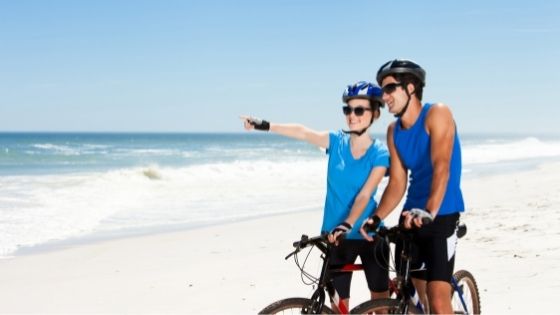 1. Find the Right Bike
A regular or fat tire beach cruiser is appropriate for beach, trail and path terrain. Many models feature ergonomic frames with clean, modern lines for added visual appeal. They can also feature semi-slick several-inch wide tires that deliver a smooth and stable ride, no matter the beach or path conditions. Padded, single-spring saddles and soft handgrips enhance the comfortability factor for most short to medium rides.
2. Get the Right Size Cruiser
If a fat tire beach cruiser appeals to you, your next question may be, "What size beach cruiser do I need?" It's always wise to get fitted for your model of choice. Visit your local bike shop or outfitter for fitment or, if you're buying online, follow the manufacturer's fitting guide. If it's possible to try out your model of choice before buying, arrange to take it for a ride to see how it feels and performs.
3. Customize Your Ride
Once you've got your bike, consider which accessories you'd like to add to it. Baskets, bells, water bottle cages, and cup, phone and GPS holders are all bestsellers when it comes to any beach cruiser. Also, if you're planning on cruising around at night, invest in front and rear lights so that you're visible to other riders. Finally, a lock is a handy accessory to have if you plan on parking your bike and leaving it for any period.
4. Practice at Your Pace
If you've never ridden on the beach before, go out for a daytime test ride with a more experienced rider when the beach, path or trail is typically quiet. Avoid big crowds and heavy traffic and give yourself ample time to get used to your bike and accessories. Maybe even start with an achievable goal like pedaling to a particular landmark or for a specific distance. Then, work up to longer rides.
5. Prepare for the Conditions
Riding on the beach can mean more sun and wind exposure than other inland environments. Depending on the weather forecast, make sure you apply sunscreen or wear SPF clothing before going out and pack rain gear or a windbreaker. Drink and carry water so that you stay hydrated and comfortable, no matter how far you plan on riding. Also, take your phone in case of an emergency or unexpected situation.
Now that you've read these five tips for beginners, start shopping today for your fat tire cruiser bike and accessories. Then, if someone asks you, "What is a beach cruiser bike?" you can not only tell them but also give them a demonstration of the bike and all your incredible add-ons!