The cost of four years of medical school is between $150,000 and $250,000. This is simply impossible for many people. Especially if you aren't yet certain that you want a career in healthcare.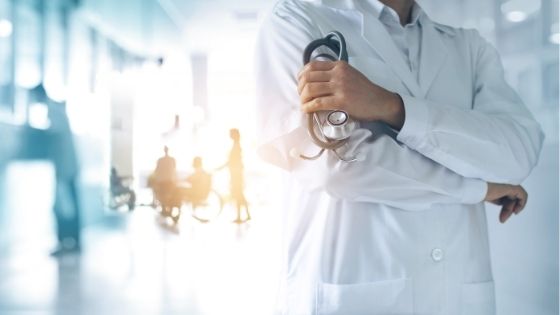 Would you like to dip your toes in the healthcare industry to see what it's like? Or do you dream about a job in healthcare but medical school isn't an option? Well, there are plenty of entry-level healthcare jobs for college graduates that could be perfect for you.
Check out these seven entry-level healthcare positions to jumpstart your career in healthcare.
1. Certified Nursing Assistant (CNA)
This is one of the best and most rewarding entry-level healthcare jobs for college students. You'll work directly with patients, providing much-needed care and assistance with daily tasks.
Your duties will be undertaken under the supervision of nursing and medical staff. This gives you a fantastic opportunity to get hands-on experience and learn from the professionals.
Your duties may include dressing, bathing, and feeding patients, as well as storing and moving supplies, setting up equipment, and so on. You'll have the opportunity to really make an impact on a patient's wellbeing through communication and support.
The median annual salary is around $30,000 per year. The position requires only a high school diploma and a state-approved education program.
2. Healthcare Administrator
If you prefer to be behind the scenes making sure that the well-oiled cogs of healthcare run smoothly, then this is a great position. Entry-level healthcare administration jobs for college graduates are fantastic for well-organized and logical people.
You'll be responsible for the administration of a specific office, a department, or an entire facility. Your responsibilities will include managing and organizing budgets and schedules, hiring new employees, and ensuring compliance with laws and regulations.
This job has a median salary of around $115,000, yet usually requires a Health Care Administration Degree.
3. Phlebotomy Technician
If you don't go woozy at the sight of blood and needles then a phlebotomy technician is a great option for an entry-level healthcare position. Phlebotomy refers to a puncture of a vein to withdraw blood or introduce fluid.
Phlebotomists, or phlebotomy technicians, work with blood. While their main duty is to draw blood, this is not their only duty. They also analyze blood samples, conducting blood tests, and submitting samples.
Their jobs are very important and they have the responsibility of properly labeling samples and maintaining medical instruments.
You can receive the phlebotomy technician diploma required for this position in as little as 34 weeks. The yearly salary is around $36,000 — or 17$ per hour.
4. Medical Assistant
This is one of the most basic entry-level healthcare management jobs, ideal for college graduates as well as people with only high school diplomas. It's an interesting position that blends administrative work with clinical experience.
You'll work directly with physicians to care for patients. You'll be drawing blood, monitoring vital signs, and preparing patients for examinations — among other duties. You'll also be expected to perform administrative tasks such as answering phones, filling out forms, and scheduling appointments.
The median salary for this position is around $35,000 per year and you don't require anything but a high school diploma. There is an additional certification that is optional but may be necessary for higher salary options.
5. Pharmacy Technician
You have the option of working in either retail pharmacies or hospitals within this entry-level healthcare position. Your job is to fill patient prescriptions and prepare medications.
You'll also be responsible for organizing inventory, processing payments and insurance claims, and dealing with patients. Working in a hospital rather than a retail pharmacy make come with a wider range of duties.
You'll likely work with a broader range of medications and may have to make rounds to dispense the medication to patients rather than have them come to you.
A Pharmacy Technician Diploma, which you can receive in about 34 weeks, is strongly recommended for this position. Much like a medical assistant position, the annual salary is also $35,000 per year.
6. Medical Biller
If you're financially savvy and mathematically inclined, then why not consider a healthcare job that involves handling money? A job in medical billing involves dealing with payments and billing. This includes dealing with insurance claims.
You'll need to collect payment from patients and submit reimbursement claims. Of course, it'll be your job to ensure that billing records are maintained.
The great thing about this position is that you'll have the opportunity to work in a variety of healthcare facilities and settings. You also don't need formal training, although some employers may expect a certification that you can complete in six weeks.
In fact, ultimatemedical.edu offers a Medical Biller certification that you can complete online! This is a profitable entry-level job that has a median salary of $39,000.
7. Occupational Therapist Aide
Are you looking for an entry-level healthcare job that will be rewarding and meaningful? This may just be the one for you. OT aides work directly with occupational therapists to provide vital rehabilitation services to patients with physical, mental, or emotional impairments.
While most of your duties will be centered around handling equipment and performing administrative tasks, you'll gain valuable first-hand knowledge on the job.
You typically only need a high school diploma to secure an OT aide job but there are certain soft skills, such as interpersonal skills and active listening, that are crucial for this role.
The median salary is $34,000 and the position is extremely rewarding.
Which of These Entry-Level Healthcare Jobs for College Graduates Appeals to You?
Have you found the perfect role for you in this list of entry-level healthcare jobs for college graduates? Many of these positions require little to no experience and basic certifications — if any. These are the ideal jobs to get a taste of the healthcare industry and jumpstart your career.
Did you enjoy this post? Our site is full of career and education content to help inspire your life and choices — keep exploring for more articles!