Did you know that over 572 million people speak Spanish worldwide? Many of these individuals live in the 21 countries where Spanish is an official language.
Whether you want to improve your travel experiences or boost your career, there are plenty of great reasons to learn Spanish!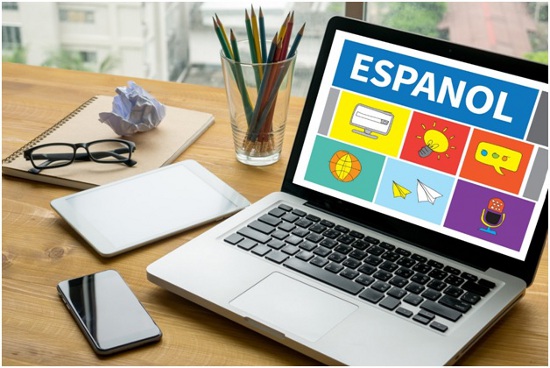 Unfortunately, many people shy away from learning a new language because they think it's too complicated. However, Spanish language learning apps have made the process much more effortless.
Today, we'll share six of the best apps for learning Spanish, so you can start conversing with natives immediately!
1. Duolingo
Duolingo is undoubtedly one of the most popular apps for learning a language. It consists of bite-sized lessons that are easy to complete whenever you have a few spare minutes.
While you learn to say simple things such as hello in the Spanish language, the course will subtly introduce you to grammatical concepts. In just a few lessons, you can start putting together sentences.
Duolingo's Spanish course also has tons of cool features, such as interactive stories, writing practice, and even a podcast.
The best part is that the entire course is available for free, so you don't need to spend a penny. If you prefer, you can pay for the Plus version to unlock a few extra features and get rid of ads.
Paid version or not, completing the entire Duolingo course will allow you to converse with ease in Spanish and understand a wide variety of subjects.
2. Memrise
Memrise is another app that makes learning Spanish fun! It uses flashcards to teach you essential vocabulary words and phrases. Plus, video clips of native speakers help learners understand the proper pronunciation.
The creators of this app focus on scientifically proven memorization techniques that can help you remember what you have learned quickly. That means that you will be able to understand and speak Spanish much more naturally in real-life situations.
Although the unpaid version of Memrise can help you learn some basic vocabulary, purchasing a subscription is necessary to get the most out of the program.
3. Rosetta Stone
Rosetta Stone has made a name for itself in the world of language learning services, so it's no surprise that their app is one of the best.
One unique feature of Rosetta Stone is the ability to choose between the dialect spoken in Latin America or Spain. Plus, the program uses immersion techniques to help your brain start thinking in Spanish instead of translating.
Another excellent characteristic of Rosetta Stone's Spanish course is its focus on listening. Auditory learners are likely to do well in this program, but it can also help anyone learning Spanish to fine-tune their listening skills.
Just like other apps, the free features are limited. Yet, they can help you to learn the basics. If you like Rosetta Stone's methodology, purchasing the unlimited version may be worth it.
4. Babbel
Another excellent app for learning Spanish is Babbel, a European language learning platform. Babbel's language learning course isn't free, but a trial lesson can help you decide if it is right for you.
If you decide to sign-up, you will have access to short lessons that can have you speaking a lot of Spanish in just a few months. The course is focused primarily on conversation, which is exceptional if you don't particularly enjoy learning grammar.
Babbel is also a good choice if you already speak some Spanish. Before joining, you'll be asked about your learning preferences and take a test to access your level. These steps allow you to pick up learning Spanish right where you left off.
5. Tandem
If you are an outgoing individual who doesn't enjoy independent learning, this language exchange platform is right for you.
Tandem allows you to chat in real-time with native Spanish speakers from around the world. Of course, you need to spend some time helping those you pair up with to learn English (or any other languages you can speak).
Chatting with native speakers is not only fun but can also help you learn about the culture in Spanish-speaking countries. The experience is more personalized, since you can ask questions and see how real people use the language daily.
An added benefit of Tandem is that you can learn Spanish slang from different regions where the language is spoken. Moreover, if you want to learn to speak a particular dialect, you can chat with natives from that area.
This versatile app also offers a paid version and specialized tutoring sessions. You may wish to go this route if you like this platform, but want to improve your knowledge of Spanish grammar.
6. Gus On the Go
Spanish learning isn't just for adults! Gus On the Go is an app for parents who want to introduce Spanish to their children.
This inexpensive app doesn't require any reading, making it perfect for young Spanish learners. Instead, children rely on pictures and audio clips to learn.
One of the best things about Gus on the Go is that it uses games to teach Spanish vocabulary. Your little one probably won't even realize they are learning- they'll be having too much fun!
If your child enjoys learning Spanish, you may even consider enrolling them in a language school. This is the perfect place for kids to learn Spanish, especially if you want them to know how to converse and eventually become bilingual.
However, this app is a great way to get them started and help them learn vocabulary related to different topics, such as colors, fruits, and numbers.
Spanish Language Learning Made Easy
No matter your age, goals, or the level of Spanish you speak, there are plenty of apps out there to help you improve your skills. Download one of the six listed above so you can start learning today!
Have you tried any of these Spanish language learning apps? If so, let us know your opinion in the comments!