For most people, the last time they picked up a paintbrush and some acrylic paint was in elementary school–or middle school if you had art class. As an adult, the idea of painting again may seem a little far-fetched considering your lack of experience.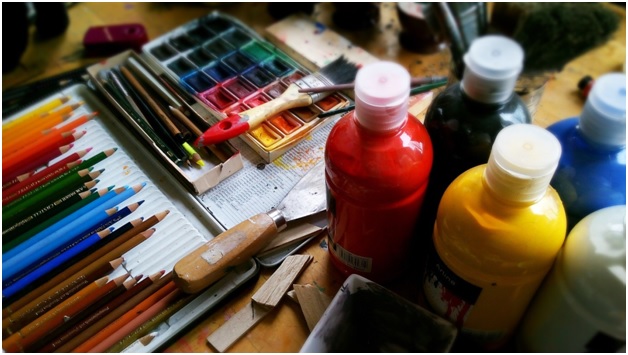 However, painting is not so much about "getting it right" as it is, having fun with the paint and the canvas. Read on to explore ten different acrylic paint ideas you can try for your next paint night.
1. Bright Yellow Sunflower
The vibrant yellow color of a sunflower brings about an energy that lifts moods and spreads positivity. Sunflowers are easy to paint, requiring two basic colors for completion: yellow and brown.
You can make your sunflower acrylic painting as simple or intricate as you'd like.
2. Handful of Lavender
If a yellow flower is too bright for the mood, try purple. An acrylic painting of a handful of lavender flowers is easy to craft with acrylic paint and some q-tips to help add texture to the flower.
3. Enchanting Sunset
This is one of those creative painting ideas that require a little bit of patience and technique. An acrylic painting of the sunset features the many wonderful colors of nature in the sky and a blending technique to smooth the lines.
4. The Beach
Like the sunset acrylic painting idea, a painting of the beach also requires a bit of color blending to capture the multitudes of blue in the ocean. Some dabs of white along the water give the waves a depth to the flat surface.
5. Stained Glass
If you've ever stepped into the Chartres Cathedral in France, you bore witness to some of the most remarkable arts and crafts humankind has ever seen: 176 windows of stained glass, of which each contains over 50 individual pieces.
You can replicate a faux stained glass piece by mixing glue with your acrylic paint.
6. Acrylic Paint Pouring Art
This is one of those painting ideas that celebrate imperfections. Art is not always about straight edges and coloring in the lines.
Acrylic paint pour involves layering different color acrylic paint (which you can get from acrylic painting kits) over the same spot and spreading the pile of paint to create a new image.
7. Cherry Blossom Tree
They're magical and breathtaking. Cherry blossom trees feature a stunning blend of pinks, whites, and reds that draw visitors from all corners of the world every springtime in Washington, D.C.
Give your cherry blossom tree a little more texture by using a palette knife to apply the paint.
8. The Northern Lights
Visible all year round in areas in Alaska or Greenland, the Northern Lights are an astronomical phenomenon that will take your breath away and leave you wondering if this is real life. It is.
You can capture the beautiful blend of blue, green, yellow, and purple colors of the Northern Lights in your acrylic painting.
9. A Full Moon
If you've ever seen a full moon in the night sky, you know how bright it shines. You can emulate this brightness and have a little fun by using glow-in-the-dark paint.
10. Umbrella in the Rain
Rainy days have a special kind of energy. It's mesmerizing to look at, but not exactly fun to be in. You can capture this gloom with an upside umbrella left in the rain.
Get Creative With Acrylic Paint
Hopefully, this list of acrylic paint ideas tickled your fancy and helped you get the ball rolling on your acrylic painting. Remember, your art doesn't have to be perfect. Get creative with it.
If you're still looking for more arts and crafts ideas to try out, check out more from the lifestyle and entertainment sections of our blog!