What is corporate gifting? If you've ever received a free T-shirt, a small gift card, or a "swag bag," you've benefited from corporate gifting policies.
Corporate gifting is a marketing technique that leverages fun items like personalized clothing, gift cards, or swag to promote the company, express gratitude, and spark more sales.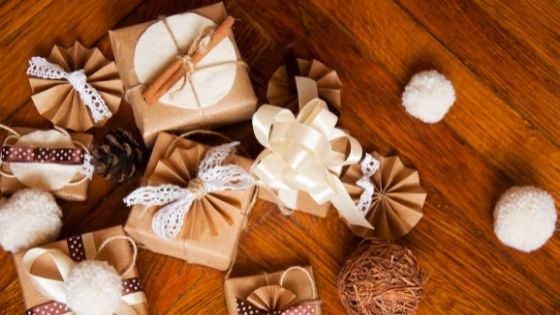 It's also how many companies build brand loyalty. Giving someone a gift is a good way to make them feel appreciated and recognized. If people feel that way toward your brand, they're more likely to buy.
We've assembled a guide to corporate gifting to help you make the most of your corporate gifting policies and turn them into a productive tactic for your company.
1. Show Clients You Care
Picture this customer scenario. A woman in her 20s buys a pair of shoes for her wedding day. They're the most comfortable, gorgeous pair of shoes she's ever worn. And when she asks for rush shipping for her wedding day, the company complies.
She's so pleased with the shoes that, 30 years later, she buys her daughter those shoes to wear to accept her Master's degree. Then, in another 20 years, she buys her granddaughter those shoes for her engagement photoshoot.
That's the definition of a lifetime customer. The company has developed brand loyalty in that customer, and she's passed it on to the rest of her family.
Why? Part of the reason is the product quality. But part of it is that, over the years, the company has proven to this customer that they care.
When clients know you care, you'll earn their lifetime loyalty. A good way to show you care is corporate gifting.
Sending a blanket gift to all clients may be a turnoff. But if you send personalized clothing or individualized swag, customers know you're investing in them by giving something you think they might like.
2. Free Advertising
Review your corporate gifting policies. What is your approach to personalized clothing, swag, or other items? If you're handing out these items, it's important to make sure they are properly branded.
Every time someone uses your branded tote bag or wears that free t-shirt, they're promoting your company. Make sure that you take advantage of this!
Maybe include the company name, the website URL, or your logo. Whatever you include on the shirt should lead people to Google what's on it.
If your logo is enough for people to look you up online later, that's great. But make sure you strike the right balance between a t-shirt that looks good and your branding efforts.
You should also consider what you're advertising. If your company has nothing to do with clothing, is a free sweater the best representation of your brand?
Try to go for something that's inexpensive to manufacture, but is high-quality, and represents your company's offerings. For instance, if you sell wilderness survival tools, what about a hydro flask or a flint-and-steel set? Both items are unique and representative of your brand offerings.
3. It's A Product Preview
Whether you're handing out a tote bag or a custom USB, treat it like one of your actual products. Many people churn out cheap merchandise for corporate gifting.
They don't actually put much time or money into the design. That's why your free tote bag might disintegrate the second you put any books in it.
This approach to corporate gifting could sink your company's marketing. People treat company merchandise like a free preview. And if your product performs poorly, why should they spend money on you?
The free product was no good. How much worse will it be if they actually waste their dollars buying from you?
If you put in the time and money to make your corporate gifts as good or better than your products, people will be willing to purchase from you.
4. Get Leads
If you're looking to generate potential leads, leverage the power of gift cards, swag, personalized clothing, and other free items. Consider how many sites get you to sign up for their advertisements and newsletters.
They rarely ask you to sign up for a barrage of email ads, notifying you every time you can save a dollar on a new pair of pants or a tube of lip gloss. Instead, they offer you a deal.
In exchange for your email, you can get 10% off on your first order. That's not a bad trade-off, considering that your inbox is likely swamped anyway.
Follow this same journey with your free merch. If someone wants a gift card or a free sweater, have them sign up for your company communications.
This gives you some leads to follow up on and gives your digital communications a bigger audience.
5. Employee Recognition
Of course, corporate gifting policies shouldn't be limited to customers only. What about showing your employees how much you appreciate their time, talent, and labor?
When you recognize an entire team's worth of employees, you validate their hard work. But people may feel like they're part of a faceless crowd.
People often feel demoralized when their work isn't individually recognized. If they feel like the team would be the same whether they work or not, they may leave or give up entirely.
A good way to avoid this is corporate gifting. If you put in the time to give your employees thoughtful gifts in response to a job well done, they'll feel valued and appreciated.
When employees feel appreciated, they tend to work harder and morale is higher. Employee recognition always pays off, both for you and your company!
Embrace Corporate Gifting
When it comes to corporate gifting, generosity and thoughtfulness are the name of the game. Handing out a cheap lanyard that your target audience won't ever use doesn't work. Instead, give items that are useful and show a deep understanding of the recipient.
If you enjoyed this article, check out the rest of our posts here!