Breathing is one of the most fundamental things we do as human beings—which is why we don't often consider it until something goes wrong.
When someone struggles to breathe, it can have a significant impact on both their physical and mental health. Until recent decades, there were no specialized professionals to help with this problem.
That's where respiratory therapists come in. These workers continue to be in high demand, with great predicted job growth, and for good reason: they change lives!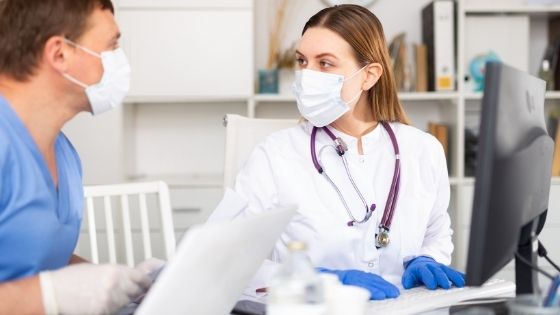 But what does a respiratory therapist do, exactly, and how do you become one? Here's what you should know.
What Is a Respiratory Therapist?
A respiratory therapist is someone who helps people learn to better manage their breathing issues. The conditions a respiratory therapist addresses can range from asthma to pneumonia to chest trauma. From premature infants to the elderly, respiratory therapists make a real difference in patients' lives.
What Does a Respiratory Therapist Do?
A respiratory therapist job description may vary from person to person. However, each therapist will generally tackle the following duties and responsibilities:
Interviewing and examining patients with respiratory conditions
Evaluate patient needs through diagnostic tests and physical examinations
Working with primary care physicians to develop long-term treatment plans
Provide treatment via medications, chest physiotherapy, and other interventions
Aid patients in securing ventilators and other breathing assistance devices
Educating patients to help them monitor and improve their own health
Supervising respiratory therapy technicians during testing
Monitoring and recording treatment progress
These duties may take place in a range of contexts.
For example, some respiratory therapists work within the pulmonary medicine department of hospitals. Others perform home health care on a one-on-one basis, and others find work in nursing homes. Some may even work in a combination of one or more of these environments!
How Do You Become a Respiratory Therapist?
A respiratory therapist career can be incredibly rewarding. Therapists have the opportunity to help patients make improvements to their overall health.
However, becoming a respiratory therapist requires diligence and hard work! You'll need to have a few specific soft skills, like patience, organization, and interpersonal skills. In addition, you'll need to take on some specific educational requirements.
You'll need an associate's degree in a related field at the very least, though those with a bachelor's degree will find better chances for employment. Related fields include human anatomy, microbiology, chemistry, and pharmacology.
You'll also need to attend a respiratory therapy program for state licensing. The program must be accredited through the Commission on Accreditation for Respiratory Care.
In addition, you'll have to pass a state examination. Regardless of where you live, these exams can be intensive. Consider getting extra help through Respiratory Therapy Zone if you'll be taking one!
Make the Leap to a Rewarding Career
Now that you've stopped wondering, "What does a respiratory therapist do?" it's time to decide whether this job is right for you! Respiratory therapy can be a rewarding career, offering many opportunities to make a difference. If this sounds like your kind of work, find a program near you to get started!
For more of the essential career tips you need to know, check out our other posts for more insights!