Phenol compounds are similar to alcohols. The difference between the two is that phenol compounds form a stronger hydrogen bond. That makes them more soluble in water and also have a higher boiling point.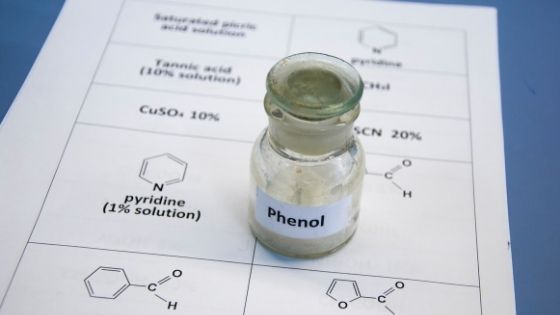 In addition, Phenols compounds occur as white solids or colorless liquids at room temperature. But, when handling Phenols compounds, you must be careful because they are caustic and highly toxic.
What are the uses of Phenols
Phenols are used in household products and intermediate industrial synthesis. It is used as a disinfectant, but in low concentrations, in mouthwash and household cleaners.
Phenol was used as the first antiseptic in surgical procedures. It was used in 1865 by Joseph Lister, a British surgeon, as an antiseptic in sterilizing the field. When phenol was used for surgical purposes, the mortality rate decreased.
On the other hand, phenol is toxic, and concentrated solutions will cause severe and painless burns of the mucous membranes and skin.
There are less toxic Phenols like n-hexylresorcinol, and it is used as antiseptic and cough drops.
Butylated hydroxytoluene, a derivative that contains low toxicity, is commonly used as an antioxidant in foods.
Phenol is used for industrial purposes, such as starting to make explosives and plastics. It is also an essential ingredient to manufacture drugs such as aspirin.
When different phenols are mixed, particularly cresols, they act as wood preservatives like creosote.
There is common phenol hydroquinone that acts as a component of photographic development. It helps to reduce silver bromide crystals to form black metallic silver after exposure. Other substituted Phenols will be used in the dye industry and help in making colored azo dyes.
Natural Sources of Phenols
There are natural sources of Phenols. These are phenols existing in nature, such as tyrosine – a common amino acid you will find in proteins. Another natural form of phenol is epinephrine, a stimulant hormone in the body and produced by adrenal medulla. Urushiol is a natural phenol compound, an irritant poison secreted by ivy, and helps prevent animals from feeding it.
Lastly, there is serotonin which is a neurotransmitter found in the brain.
Most complex phenols are used as aromas and flavorings. These are usually extracted from plants with essential oils such as vanillin that provide vanilla flavor. It is extracted from vanilla beans.
Moreover, there is methyl salicylate with a minty taste and odor. It is extracted from wintergreen.
There are more phenols and all are extracted from plants. They include thymol extracted from thyme and eugenol extracted from cloves.
Nomenclature Of Phenols
Phenol compounds were discovered before chemists discovered their structures. However, trivial names are still used for common phenolic compounds.
When chemically naming phenols, they use their systemic names. That helps in specifying their structure.
Physical Properties
Phenols are similar to alcohols because they contain hydroxyl groups participating in intermolecular hydrogen bonding.
Phenols will form stronger hydrogen bonds, unlike alcohols. Hydrogen bonding results in a high melting point than hydrocarbons.
In addition, the ability to form stronger hydrogen bonds enhances their solubility in water. Their association with water is strong, such that crystalline phenol absorbs moisture from the air.