The Bureau of Labor Statistics projects employment growth of 15% for fitness workers between now and 2029. The fitness industry will provide plenty of opportunities for success in the near future as jobs remain in high demand.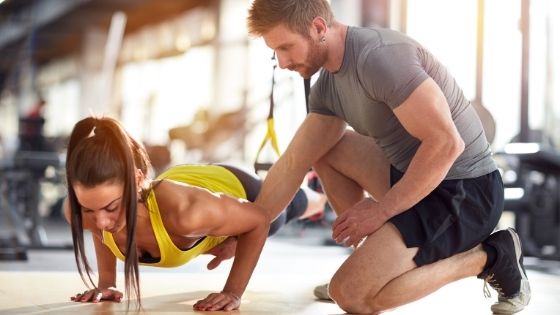 Are you interested in a career in the fitness industry?
If you are passionate about health and wellness and enjoy working with people, a fitness career may be the perfect opportunity for you. Keep reading for five of the top fitness jobs out there and what you'll need to get started.
1. Fitness Manager
A fitness manager is responsible for increasing a company's fitness revenue. They manage the sales of wellness programs, group fitness instruction, memberships, and other related products.
Fitness managers also are in charge of monitoring staff, trainer and instructor performance, member satisfaction, and profits. A bachelor's degree in a related field is preferred for this position, and a certificate in personal training is a must.
Fitness managers can expect to earn an annual salary ranging from $44,000 to $74,000.
2. Athletic Trainer
The primary job responsibilities of an athletic trainer involve preventing, assessing, and treating injuries for athletes. They are in charge of taping, bracing, and stretching protocol for the athletes and ensuring their fitness equipment fits properly.
Athletic trainers work in schools, for private teams, and with professional organizations. They are required to have a bachelor's degree and proper certification.
Athletic trainers earn between $41,000 and $85,000 per year.
3. Physical Therapist
Physical therapists help ill or injured people improve movement, manage pain, and maintain their physical fitness. They are often involved in the preventive care, rehabilitation, and treatment for patients with chronic conditions and injuries.
To become a physical therapist, you'll need to earn a doctorate in physical therapy and will have the option to either work for a larger clinic or manage your own practice.
The median physical therapist salary in the U.S. is around $89,000 a year.
4. Personal Trainer
Personal trainers work one on one with clients to develop fitness training plans. These plans are designed to help the client lose weight, build strength, improve physical performance, and maintain overall health. Trainers introduce individualized exercises based on the client's specific goals, fitness levels, and needs.
To become a personal trainer, you'll need to earn your personal trainer certification. As one of the most popular fitness industry jobs, you can expect to earn anywhere between $31,000 to $89,000 per year.
5. Wellness Coach
Wellness coaches work with individuals, groups, and organizations who want to invest in developing healthier lifestyles. The goal is to help clients practice healthier habits by developing nutritional, physical, and mental/emotional wellness plans.
Before becoming a wellness coach, it's recommended to complete a bachelor's degree in a related field such as nutrition, counseling, fitness, psychology, wellness, nursing, or health care.
You may also choose to earn a wellness coach certificate instead, but it may limit your options for how much you make and where you can find work.
A wellness coach makes an average annual salary of about $48,000, depending on their qualifications.
Fitness Jobs Are Here to Stay
If you are interested in finding a career in the fitness industry, the job market is growing exponentially. From online fitness jobs to in-person, there are plenty of options out there.
Whether you are hoping to find a career in management or something more laid back, the fitness industry has a place for everyone.
If you enjoyed reading this article, check out more of our recent posts from our Lifestyle section.