During the summer, sweltering temperatures often prompt people to turn on their air conditioners for relief. Installing an air conditioner brings welcome cooling relief. Before installation, homeowners need to consider some things that will help them make the right decisions for their needs.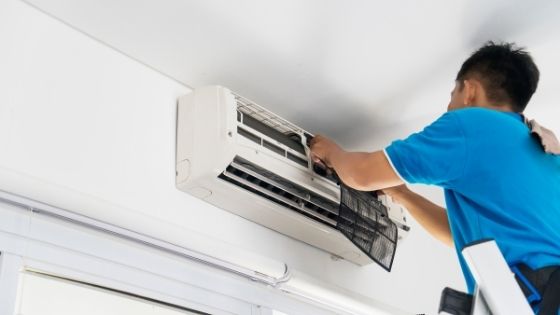 Air Conditioners Enhance Comfort
When the heat of summer arrives, homes become uncomfortably warm. Unfortunately, the inside of a building can become 30 degrees hotter than outdoor temperatures. With this increase in heat, homeowners must consider A/C installation to protect their families and keep everyone cool and comfortable during the warmest heat spells.
What to Consider Before Installing an AC System
Homeowners should consider multiple factors before hiring an HVAC professional to come out and install an air conditioning system. Considering the following will help homeowners make the right choices and ensure their rooms are cool and comfortable even when outdoor temperatures rise to uncomfortable levels.
Select the right size. One of the most essential considerations is the size of the air conditioner. The needed size will depend on the size of the room, the materials of the room, and the insulation. Measuring the room will help homeowners determine how many BTUs they need for their AC.
The placement of the air conditioner is also a critical factor to consider. The AC system should be installed in an area where there are no obstacles. Fences and plants can prevent proper airflow.
A homeowner also needs to make sure they choose a system that offers the highest level of energy efficiency. If a unit is energy efficient, homeowners will find a reduction in their energy costs during the summer months.
Another thing to consider when installing a room air conditioner is the cost. Some homeowners are quite shocked when they receive high energy bills. Homeowners will also need to factor in their climate. The harder the air conditioner has to work, the greater the cost.
Noise is another consideration. If a homeowner has never had a room AC system running, they may not be aware of the annoyance that may occur. Most people will want to look for an AC system that offers quiet operation. AC manufacturers offer information on the noise levels of their systems.
Homeowners should also consider their needs for air quality improvement. AC systems undoubtedly improve air quality in a room. These systems filter dust and other contaminants. AC units also remove excess humidity, which makes a room much more comfortable.
Consider the maintenance. Some air conditioners are more difficult to maintain than others. Does the system have a reusable filter or does it use a disposable one? How expensive will it be to hire a professional for maintenance?
Seek Professional AC Installation
When it comes to installing a new AC system in a room, seeking professional help becomes essential. If a homeowner takes a DIY approach to AC installation, they could end up making mistakes that cause their system to work improperly. Hiring professionals ensures every step in the installation is carried out precisely.
Once a professional installs an AC system, they will also perform maintenance. Ideally, maintenance needs to be done at least once a year. Some homeowners should schedule maintenance appointments every six months.
A new air conditioner offers increased comfort in a room. An air conditioner can lower the temperature of a room up to twenty degrees. If a room is overly hot, now is the time to consider installing a new air conditioner. With today's affordable and energy-efficient AC systems, homeowners will reduce their cooling costs.