If you've never visited Miami, you're likely to have certain preconceptions about the city. While Miami may boast beautiful beaches and a vibrant nightlife, it isn't the only thing the city has to offer. There's more to Miami than meets the eye, with its vibrant art scene, historic neighborhoods, and diverse ethnicities. If you're considering relocating, don't overlook Miami. This dynamic city has so much to offer that you'll undoubtedly find something to pique your interest. If you don't believe us, consider these seven compelling reasons provided by Safebound Moving & Storage to relocate to Miami.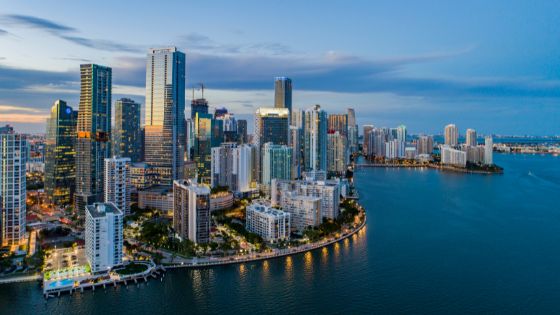 Lovely Weather
You'll appreciate living in Miami if you consider hot, humid summers and short, moderate winters to be ideal weather. The typical highs and lows in January are 76 and 60 degrees Fahrenheit, respectively, and the climate is classified as tropical monsoon. The warmest months have highs of 91 degrees Fahrenheit and lows of 77 degrees Fahrenheit. It's no surprise that south Florida is a popular tourist and residential destination. While Florida is notorious for its rainy season, it is also known as the Sunshine State.
Food
Moving to Miami gives you access to some of the greatest cuisine in the world. Away from the tourist traps, Miami has an incredible culinary culture, with real restaurants, cafés, and food trucks. Cuban cuisine is particularly popular in Miami, although other nationalities are well-represented as well. Tropical produce, such as mangoes and avocados, are reasonably priced due to the city's tropical environment. Avocado toast, hello!
Check out Boia De, a small Italian restaurant in the Little Haiti district, or Mandolin Aegean Bistro, a Greek restaurant in the Buena Vista neighborhood, for a meal on the gorgeous outdoor terrace. Whatever you do, you'll have a hard time finding a restaurant that you don't enjoy; Miami is a gastronomic wonderland.
Keep Your Income
Are you irritated by the fact that you have to give Uncle Sam a chunk of your paycheck? While you'll still have to pay federal income taxes, moving to Miami will save you money on state taxes because Florida does not have one. In addition, the sales tax in Miami is just 7.75 percent, which is lower than the national average. Miami inhabitants earn an average yearly income of $60,000, which is somewhat less than the national average of $66,000. Your cost of living will be largely determined by your income and taxes. You will have greater financial freedom for other important costs such as housing and hiring a good residential or commercial moving company if you do not have to pay income tax.
Good Public Transit
According to a recent survey, Miami traffic is the fifth worst in the country. With figures like these, it's no surprise that the city's public transit system is quite reliable. The Metrobus system operates approximately 95 routes and 1,000 buses, transporting passengers from Fort Lauderdale to the Florida Keys.
The Metrorail system connects northwest Miami-Dade County to Broward and Palm Beach counties with 25 miles of elevated railways. If you often travel around Downtown Miami and Brickell, the Metromover is a free service that runs in tiny loops throughout the city and connects the Metrobus and Metrorail.
Culture
The Caribbean and Latin-American communities have a tremendous effect on Miami's culture. Carnival Miami, The Calle Ocho Festival, and the Miami International Film Festival are just a few of the festivals, museums, and theaters that highlight these varied cultures that visitors and locals alike may enjoy. A variety of independent cinema theaters, orchestras, symphonies, and performing arts institutes may also be found in the city. Check out the murals, art walks, and other attractions in the renowned Wynwood area.
Variety of People
Miami has a sizable Hispanic population and is a multilingual metropolis. While knowing Spanish isn't required to get by, it will make things a lot more enjoyable and maybe easier. Because the Hispanic population owns and operates so many stores, bars, and restaurants in Miami, many inhabitants do not speak English. If you at least have a basic understanding of the Spanish language, getting around and communicating with the people will be much simpler.
There's Way More Than Just The Beach
You've definitely visited a beach city, where the beach is the primary attraction and there's nothing else to do but soak up the sun and sand all day. However, Miami is not a beach city; it is a beach city. Sure, it's on the beach, but there's so much more to do here than sunbathe and swim. Museums, European homes, ancient castles, national parks, and almost anything else you'd expect to find in a huge metropolitan metropolis – and then some — can all be found here. If you're a beach bum, you'll be able to choose from some of the top surf and sand spots in the world. After all, Miami Beach is a holiday destination for a reason.