Planning a banquet is surprisingly difficult. Many things can go wrong, so you need to have a solid plan if you want your event to be successful.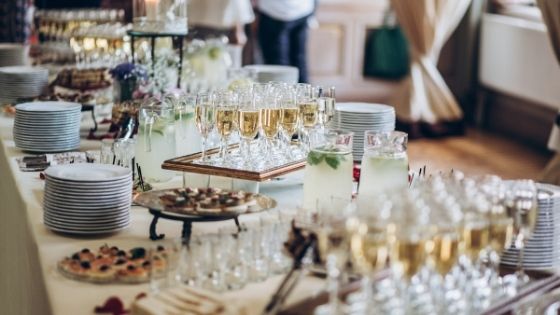 So what are some of the pitfalls you need to avoid? This article explains how to avoid a disaster when planning a banquet.
Keep the Food Simple
One of the most important things to keep in mind for a successful banquet is to keep the food simple. If you need to cook for hundreds of guests, it simply doesn't make sense to have a complicated menu.
For each course, you should offer one or two options (and perhaps an additional vegetarian option). Having too much food available when you're trying to serve a crowd of guests is a recipe for disaster.
Have a Backup Plan
Another tip for banquet planning is always to have a backup plan for when things might go wrong. When planning a large event, it's only natural that things might not always go to plan.
For example, maybe you've booked a band to provide entertainment. You should consider having a backup option in place in case the band can't make it. For example, maybe one of the organizers knows someone who could DJ.
The more backup plans you have, the less daunting it is when things start to go wrong.
Start Planning Early
When it comes to a banquet plan, you can never start planning too early. It's quite common when arranging a banquet to run into problems with bookings. This is especially true if you leave things until the last minute.
If you want to get the best prices, you absolutely need to book early. The later you leave it, the more difficult it will become to book the main components of your event.
Treat Open Bar Setups With Caution
While everyone loves an open bar, you should treat it with caution. Whenever a banquet gets out of hand, chances are an open bar was to blame. If you do plan on having an open bar, you might consider limiting it to weaker drinks like beer and wine.
Assign Responsibilities
It's vital that you decide who will be responsible for doing what. Many of the banquet planning disasters happen because there wasn't a clear division of responsibility.
If you want to avoid a situation where everyone thinks someone else is responsible for something, you need to have clearly defined responsibilities. For example, you might have someone responsible for using a site like EventStable.com to hire tables.
Budget for Unforeseen Costs
Banquets are highly susceptible to unexpected costs. These costs are quite hard to predict ahead of time, so it makes sense to account for these costs in the budget. You should never run a banquet on a very tight budget. Planning in this way will almost certainly lead to problems.
Now You Know More About Planning a Banquet
As you can see, there are many factors to consider when planning a banquet. A lot can go wrong, so it makes sense to start planning early and to account for unexpected developments.
If you want to learn more about other event planning-related topics, take a look at the rest of our blog posts.