With multiple bath and soap products available, picking the finest amongst the lot becomes tricky. An alluring list of ingredients may persuade you to buy a soap set for yourself.
But it might not be suitable for your skin. Natural soap bars are meticulously developed with rich skin-nourishing elements to offer healthier and radiant skin.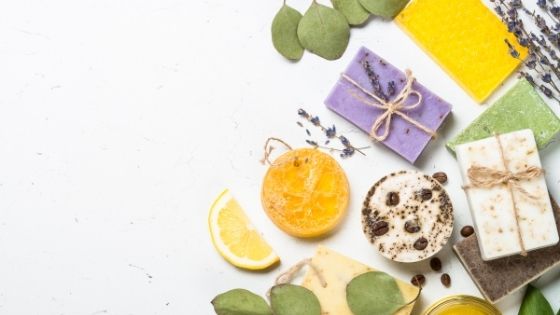 Unlike synthetic soaps, all-natural soaps are kinder to your skin and are enriched with organic and essential oils.
However, before picking your natural soap bar, it is vital to know what goes into making them. So, read along to know more about these natural goodies and what to look for when buying them.
What Does a Natural Soap Contain?
Natural soaps are made with all-natural ingredients and essential oils, unlike soaps sold in stores. They cleanse your skin intensely in a much soothing and milder way.
Most natural soap bars are curated with essential oils, plant butter, organic oils, herbs, spices, etc.
So, here is a list of components that make up a natural soap.
Oils: It is one of the main ingredients for making natural soap. The oil is turned into fatty acid salts that make it through saponification.
Lye: Is a combination of sodium hydroxide and water and is a highly alkaline solution when it mixes with oil.
Essential Oils: They are naturally derived from plants or flowers. Cold-pressed oil from the skin or the peel of fruit or flower is added to natural soaps.
Natural Colouring: Natural ingredients are mixed instead of synthetic colorants to add a gentle tone of color to the soap. Therefore, ingredients like paprika, turmeric, activated charcoal, and berries add an appeal to the soap bars.
Natural Exfoliators: Dead Sea salts are excellent exfoliators that help detoxify and heal your skin.
What to Look for in Natural Soaps?
Natural soaps, today, have become quite a rage among bath lovers. Not every brand claims to be natural, maybe 100% organic.
Hence, you must double-check a few factors before picking the right one for your needs.
Ingredients
Is it made with authentic natural ingredients? This is something you should inquire about before making a purchase. The use of natural ingredients like oatmeal, charcoal, aloe vera, and coconut oil is highly beneficial for your skin.
Ensure that your natural soap is packed with similar ingredients to get the goodness of nature.
Skin-Type Friendly
Natural bar soaps are usually curated with mild ingredients and are safe for sensitive skin types. Thus, you must check if its formula is tested by dermatologists and is fragrance-free.
Moreover, if you have a skin condition, natural soaps with lye are best suited compared to others. In addition, if you have dehydrated skin, soaps with lavender or shea butter are ideal for restoring your skin's moisture.
Free of Preservatives
Look for a soap with zero parabens, sulfates, synthetic colorants, preservatives, fragrances, etc. It assures the sustainability and natural essence of the product.
Final Thought
Not every natural soap is similar to the other. Each has its unique benefits depending on the ingredients they are made with.
In essence, these bath treats that are known to be gentle, moisturizing, and with a soothing aroma are the best you can offer for your skin.