Having a reading nook in your home could create a perfect place of solace for your teens. Undoubtedly, your teenage years can be a little overwhelming and certainly exhausting, so giving them a tranquil place they can escape to is sure to have a positive effect. Whether they're reading for school or enjoying some YA fiction, here's how you can create the perfect reading spot for teens.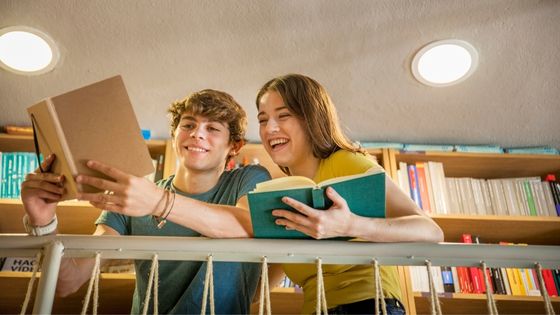 A book nook should be a somewhat small and intimate place. It should feel cozy and peaceful. When creating a book nook in your home, it's a good idea to consider how you could take advantage of your home's existing features. For example, if you have an alcove, a bay window, or some built-in bookshelves, could they be used to create the nook?
Use a space with a view
If possible, it's a good idea to have your reading nook in a place with a nice view. A window seat can make a nice ready-made nook. Just line the area with bookshelves, and you're well on your way. If you want to keep the area private, you can add stickers to the windows that obscure the view. Is there anything better than sitting curled up with a book while the rain gently hits the windows? We thought not, so try to opt for an area with a window.
Opt for natural light
Not only can a window provide a lovely view when they glance up from the pages of their book, but it will also provide the best quality light for reading. Natural light keeps the brain stimulated and helps it to retain information.
Add some warmer, softer lights for reading before bed. They'll create a cozy ambiance and help the reader to wind down gently. More soothing lights allow the eyes to relax and can improve sleep quality.
Get comfortable
If you want your teen to return to the reading nook repeatedly, it needs to be comfortable. When considering furniture for teen sit should be practical and comfortable but also stylish. A lounge chair is a perfect addition to any reading nook. Its unique shape, large size, backrests, and armrests, allow your bookworm to sit comfortably and read late into the evening.
Add textures
Once you pick your spot and add bookshelves and a comfy seat, along with suitable lighting, the next thing you'll want to do is add some luxe textiles along with some home comforts. Having plenty of texture is key to making the area feel cozy so don't be afraid to mix it up! Add a rug, a throw, and plenty of cushions! During this step, you can easily tailor your nook to your teen's style.
In addition to textures, you can add some simple elements that make the area feel super homely. Think candles for cozy fall nights, fresh flowers to help the area smell and feel fresh, or even some smaller house plants like succulents to give the area some personality.
A reading nook can be used by the whole family but can be a perfect place for your teen to read, study and simply chill.