It often seems like you have little control or ability to help improve life on the planet. After all, government make the big decisions and industrial changes are instrumental in protecting the environment for the future. It's fair to ask yourself how much help can one person be?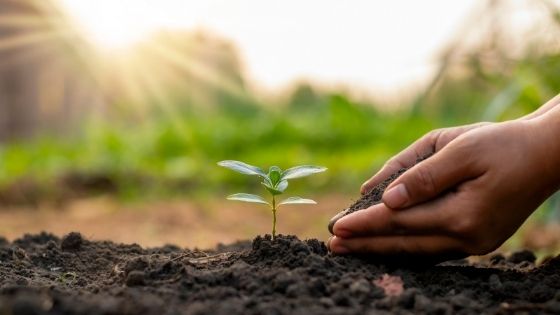 However, this is one example where everything helps. Even if you just plant one tree in your yard you are helping the environment. If everyone does this it can make a huge difference across the globe. Naturally, if you have more space then you can plant trees and improve the environment even more.
Why Trees Are Beneficial
Trees use a similar breathing process to humans. However, instead of taking in oxygen and expelling carbon dioxide, they absorb carbon dioxide and expel oxygen. That means they are reducing the amount of carbon dioxide in the atmosphere and helping to create an oxygen-rich atmosphere for humans.
That's a definite benefit to the environment and to human life.
Of course, trees are also a great source of shade which you probably appreciate on a hot day. But, you're not the only one. A host of animals and plants flourish thanks to the shade of trees. These are all things that don't do well in direct sun. But, they all play their part in helping the environment.
Alongside this, trees attract a variety of wildlife and birds to them, establishing small ecosystems that support an abundance of life. All of these things are essential to life on Earth, making the tree one of the most important factors for the survival of the planet.
It's worth noting that trees also prevent soil erosion and encourage good water drainage. This is useful as extreme weather becomes increasingly common.
How To Plant Trees
Planting trees is best done in the spring as the warming weather will help them to become established and survive future winters.
You'll need to dig a hole large enough to accommodate the tree and its roots. This can be difficult in rocky ground which is why rock augers have become popular. They make it simple to create a hole. Make sure you water the hole well before you slide the young tree into the hole and fill it with soil.
Once the tree is secured you can water it daily to ensure it settles properly and starts to grow.
It is a good idea to surround very small trees with a cage, this will protect them from wildlife. F you don't, anything that gets into your yard or orchard may eat the tree, forcing you to start again.
Foof production
Not all trees produce fruit but many do and, if this is the type you're planting then you'll be creating an organic food source. That slightly reduces your dependency on commercial suppliers and helps the environment by increasing organically produced food and reducing waste.
Of course, you'll also get the benefit of your own fruit. It's hard not to enjoy that!