Oral health is crucial yet underrated and ignoring it can cause serious problems. It's been estimated that up to 44% of the global population suffers from tooth decay, while nearly one-fifth of adults have periodontal disease. When these issues are unaddressed, they may lead to painful and serious dental emergencies.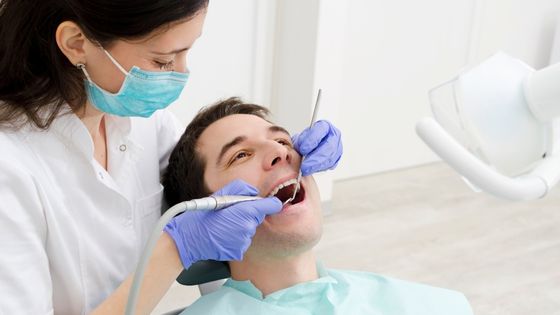 Regular dental care is essential, especially after a dental emergency. Here, we'll explain the most common dental difficulties, how to treat them, and how to prevent them.
Broken, Chipped, and Cracked Teeth
A cracked or chipped tooth is one of the most common emergencies our dentists encounter. Sports injuries, slip-and-fall accidents, and other traumatic events can cause serious damage. Follow these tips until you can make an emergency appointment:
Use temporary tooth filling or wax, which is available at most drugstores
Don't use the injured part of the mouth
Limit intake of cold and hot foods and beverages
There's no real way to prevent sudden dental trauma, but treatments include veneers, bonding, root canals, or crowns depending on the nature of the problem and the length of time between the injury and the appointment.
Loose or Missing Teeth
In the event of a serous accident or injury, teeth may be knocked out or loosened. When no trauma has occurred, loose and missing teeth may be due to gum disease, inadequate oral care, or damage from tooth clenching or grinding.
Though it's impossible to avoid every cause of loose teeth, patients can take proactive steps to protect their smiles, including:
Wearing a night guard
Practicing better oral hygiene
Not removing loose teeth themselves
Regularly gargling with salt water
Using ice packs when swelling occurs
Dentists typically treat loose and missing teeth with dental implants, partial dentures, and bridges. Call or click today to learn about these treatment options.
Severe Toothaches
Tooth pain is a symptom of numerous dental emergencies, including broken teeth, damaged fillings, abscesses, and infections. Treat the pain by:
Rinsing regularly with salt water
Applying ice packs to minimize swelling
Taking over-the-counter pain medicines as directed
If tooth pain is severe or suddenly gets worse, or if it's accompanied by a high fever, seek emergency care. Treatments vary depending on the problem's cause, but most dentists recommend root canals, extractions, and antibiotic use.
Abscesses
Swelling of the lymph nodes and face, as well as irritation of the jaw and mouth may indicate an abscess. These problems are caused by bacterial infection of the gums or tooth roots, and they come with other symptoms such as heat and cold sensitivity, fever, pain when eating, and breathing troubles. Reduce the risk of abscesses with proper oral care and treat existing lesions with:
Saltwater rinses
Consumption of room-temperature foods and drinks
Over-the-counter medicines
Baking soda rinses
Ice packs for swelling
If left untended, the bacterial infection may spread throughout the body and create life-threatening effects. Though the above home remedies may alleviate pain, an emergency dentist is the only person who can treat an abscess.
When Dental Emergencies Can't Be Prevented, Seek Treatment
As dental crises can strike at any time, it's best to have access to an emergency dentist in your area. In cases involving trauma or injury, time makes a big difference. If treatment is sought immediately, teeth can be saved, and serious complications may be prevented. Learn about our treatments online or call today to schedule an appointment.