If you have had enough of the cold European climate and have chosen Thailand as your new destination, you certainly aren't alone in your desire to live in a tropical paradise; Bangkok has long been the number one destination for digital nomads and for good reason. If part of your relocation plans includes building your dream home, this article was meant for you, as we offer valuable advice regarding property ownership in Thailand.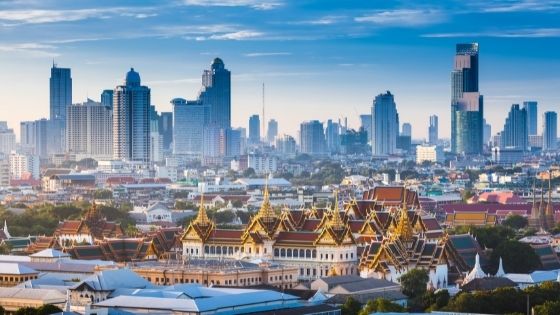 Thai Law & Land Ownership
Under current Thai law, a foreigner is not permitted to own land, however, there are options such as the 30×30 lease, or creating a limited company which purchases the land (you are a shareholder). The 30-year lease with a further optional 30 years is the preferred way to secure the land on which to build your home and lease prices are similar to freehold prices. The setting up a limited company option is how many foreigners get round the legal issue; the company must be at least 51% owned by a Thai or Thais, with the foreigner owning up to 49% of the company. It is very important that the said company is actually trading; should the Thai government believe that the company was set up solely to buy land, you could be in deep trouble! Always seek out a local English-speaking lawyer when looking to acquire land in Thailand.
Finding a Builder
Of course, you need to find a local builder and preferably one with hands-on experience in building custom homes; there are builders that offer a complete service from initial design to handing over the keys. If language is an issue, make sure you have a translator when talking to a Thai builder and be very specific about your needs, as this helps the builder to understand your vision. The builder would be able to find บริษัทจําหน่ายอุปกรณ์ไฟฟ้า and other materials and components, which can be sourced at trade prices and with your design concept and skilled labour, your dream house will soon come into existence.
Solar Energy
Building a house today demands clean & renewable energy solutions and by talking to a local solar panel supplier, you can design a system that gives you all the power you need, without ever having to connect to the national power grid. Such a system would pay for itself in 5 years and after that, all your energy is free and you are no longer part of the pollution problem, you are part of the solution. If you are looking to invest in a rental property, here are a few tips.
Choosing a Location
There are many options in Thailand; you could build a pool villa in Phuket or Samui, or choose to live in the central plains around Korat, while the mountainous north of Thailand is a popular region for western retirees. Why not spend a few months touring the country and see how you feel after that? Renting property is easy in Thailand, so do that until your dream home is completed.
Check out the Tourism Authority of Thailand website and plan your first exploratory trip and then you can plan your time effectively.