Are you ready to get outside?
Whether you have a spacious deck or a small patio — if you have an outdoor space, it doesn't take much to transform it into a beautiful living area you can enjoy all year round.
Ready to transform your outdoor space but aren't sure where to start? We're here to help!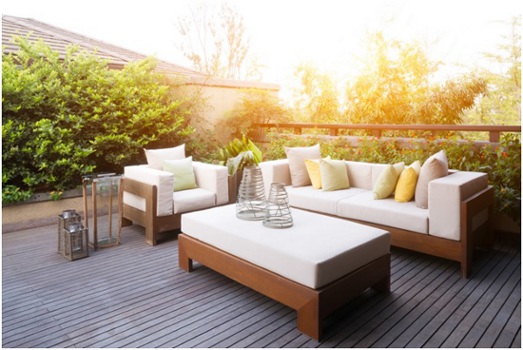 Here are nine fresh and fantastic outdoor design trends that will help you transform your back porch into a stylish and comfortable living area.
1. Lots of Shade
By now, it's common knowledge that the sun is a deadly laser. It's no big secret how dangerous and damaging UV rays are; tanning beds have even fallen out of fashion. And, because people are more aware of how hazardous spending too much time in the sun can be, installing a little extra shade in your outdoor areas is officially a must-have.
Whether you go for a large, full patio covering, like an awning, or something a little smaller, like a floating umbrella, having lots and lots of shady seating areas incorporated into your outdoor design is essential if you're going for a modern, trendy look.
2. Going Green
While potted plants may not seem like big news among other outdoor design ideas, using them as focal points rather than accents in your living area is a pretty significant upgrade.
And we're not just talking about piddly potted plants either.
Living walls, vertical gardens, raised-bed centerpieces, hanging plants, and oversized leafy greens are just a few of the ways greenery is taking over outdoor design. So, if you're looking for a quick and easy way to upgrade your outdoor living area, you can't go wrong by adding a few plants!
3. Natural Wood
Greenery aside, another fantastic way to incorporate a little more of nature's beauty into your outdoor living area is by relying on an old favorite: natural wood.
Whether it's in furniture or covering your entire deck, it's impossible to beat the natural beauty of uncovered wood. And, as outdoor design leans back toward the outdoors, it makes sense that simple wood would make its way back to the spotlight. You can also check out outdoor furniture at COSIEST.
4. Earthy Tones
If you're looking for a quick and easy way to breathe new life into your outdoor living area, there's nothing like changing up your color palette. And what better way to revamp your outdoor space than by decking it out in calming earthy and neutral tones.
From calming blues and greens to warm browns and tans, it's hard to beat the simplicity and beauty of earth tones, which is why they are such a popular outdoor design trend.
5. Indoors Out
As we mentioned before, there's no such thing as having too much shade in your outdoor space. And one of the best to find shade while enjoying the great outdoors is by staying inside! Well, in a sense.
Whether it's a full sliding wall that opens up onto your back deck or a stylishly renovated shed, there are dozens of stunning and stylish ways to tie your indoor and outdoor living areas together.
6. Less Is More
Not even outdoor patio designs can escape the allure of minimalism. But keeping things on the sparse end outdoors comes with a few extra benefits — especially when compared to interior design.
A minimalist outdoor living area not only leaves you with a lot of added space for outdoor activities, like yard games, messy hobbies, or it can even double as a spacious outdoor exercise area.
Outdoor areas and furniture are notoriously difficult to maintain. On top of everyday wear and tear, all of your outdoor furniture and decorations face constant exposure to the elements. But, if you have fewer pieces to look after, you can spend less time cleaning and maintaining your space and more time enjoying it.
7. Function Over Fashion
One major update in outdoor living design is making your outdoor spaces livable; that's to say, functional.
Working outdoor kitchens, bars, and even office spaces are officially all design must-haves in your outdoor living area. Your goal is to make your outdoor space as functional and useful as possible, so you'll be able to get out and enjoy it as much as you possibly can.
8. Keep It Centered
Another must-have outdoor design trend is the centerpiece or focal point.
Most well-designed rooms include at least one focal point around which you arrange the rest of the room. It could be a TV or fireplace in your living room or the bed in your bedroom; the goal is to give yourself a starting point from which you can decorate the rest of your space.
So, whether you want to look up a few stylish outdoor fire pit designs or invest in a rotating spinning flag pole, you need to incorporate a focal point into your design.
9. Get Smart!
Finally, it's no secret that smart home technology is slowly taking over. From lights that turn on themselves to robot vacuums, there's no limit to what we can automate. And this technology isn't just limited to your indoor spaces.
Smart bulbs can help transform your outdoor lighting design with a simple command. You can even automate sunshades to expand and retract in time with the sun. So you won't ever have to worry about getting stuck out in the sun.
The best part is, if you have a smartphone, you don't necessarily need a smart home system to set up and run your outdoor devices. That said, most modern smart home devices double as fantastic speakers, and no outdoor living area is complete without a way to pump your tunes.
Outdoor Design You Need to Try
By trying out a few of these outdoor design trends, you'll be able to transform your back patio into a personal oasis in no time.
Are you looking for more advice on how to transform your house into the home of your dreams? We've got you covered. Check out the rest of our blog for more helpful articles, tips, and tricks today!